Snowbound at Christmas by Debbie Mason: After being suspected of being a part of a Ponzi scheme her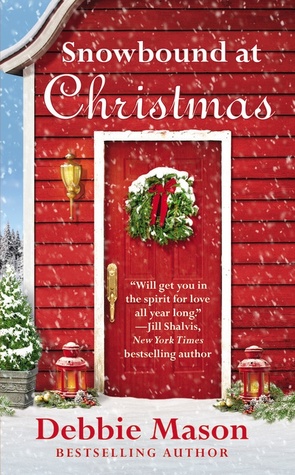 boyfriend was running, Cat quit her job as a police officer and takes a job as her twin sister, Chloe's, personal assistant/manager/bodyguard. When accidents start happening on the set of Chloe's soap opera, Cat is determined to find the culprit, but she isn't the only one.
On vacation from the FBI, Grayson Alexander is called by his cousin, whose security company was hired by the studio to find the source of the threats. With his grandmother in tow, he goes undercover as Harry, a British actor. Cat is at the top of his suspect list before he even meets her.
There's plenty of suspects besides Cat, and as Grayson gets to know her, he develops feelings yet his suspicions remain. Cat has the feeling that there's more to "Harry" than meets the eye.
I loved Grayson and Cat together. They were both witty and determined to solve their mutual problem, all while being suspicious of one another. Grayson's grandmother, Estelle, a nursing home escapee, added a bit of humor to the story.
The only character I didn't like was Chloe. She was obnoxious and self-absorbed. Everything was about her. Even when Cat gets wounded, she manages to make it all about her. We find out what she did to Cat in high school, and it was just terrible. At one point she even accuses Cat of trying to kill her, when Cat had done nothing but bend over backwards to make her happy and figure out the assailant. Chloe does try to redeem herself at the end, but it wasn't enough to get me to change my feelings about her. I even felt a little frustrated with Cat, because no matter how poorly Chloe treated her, she always forgave her and kept letting her get away with it.
Even though this is the fifth book in the series, it can be read as a stand alone.
Snowbound at Christmas is filled with mystery, family drama, quirky characters, and romance. This was my first time reading anything by Debbie Mason, but I definitely will be going back to read the rest of the series.

Book Info:

Publication: September 29, 2015 | Forever | Christmas, Colorado #5
Ex-cop Cat O'Connor is bored working for her sister, Chloe, as a personal assistant on the set of her soap opera. Until Chloe gets an opportunity to audition for the role of a lifetime and asks her identical twin to substitute for her on the soap with no one the wiser. It's a perfect switch—until Cat attracts the attention of the mysterious Mr. Tall, Dark, and Way-too-handsome leading man.
Grayson Alexander never thought being snowbound in the charming town of Christmas, Colorado, for the holiday would get so hot. But between working with sexy, tough Cat on set and keeping his real reason for being there under wraps, he's definitely feeling the heat. And if there's one thing they'll learn as they bring out the mistletoe, it's that in this town, true love is always in season…