Snowbound with an Heiress by Jennifer Faye: One person hiding from the public and another hiding in plain sight from the past. Can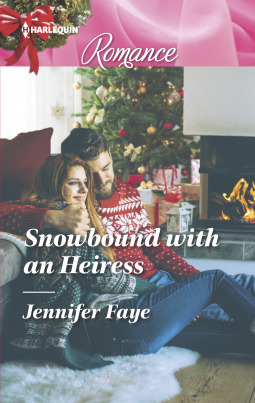 these two figure out how to deal with the pasts enough to begin a future?
Serena Mae Winston had lived her entire life in the spotlight. She really didn't know any other way. It wasn't easy though and yes she had regrets, but it was kind of nice that she could do what she wanted to do without having to fear for her lively hood. Even if it did mean dealing with people who thought they could run her life.
Jackson Bennett was good at hiding in plain sight. No one needed to know the memories that haunted him or the past he just couldn't seem to get over. He was a good actor even if he was technically just a newscaster. Someday maybe he would be ready to get over things and move on, but right now that just wasn't an option.
When you have two people dealing so much in their pasts, their futures don't look bright. However with these two love is determined to turn on all the lights.
Ms. Faye has given her readers a great novel to indulge in. This story is almost a comedy in errors with the ups and downs of the plot. There is a little bit of everything that Ms. Faye does a wonderful job describing. There isn't a ton of heat, but there is a slow burn that will melt a nice cup of chocolate and have up curling up with a cup.

Book Info:

Publication: November 1st 2017 | Harlequin Romance |
Stranded in the snow—together!
Heiress Serena Winston has gone off the grid for the holidays! She's staying in a remote cabin in the Alps, looking to get away from it all…
Since losing his wife, Christmas isn't the same for TV presenter Jackson Bennett. He goes where the work takes him, this time to Austria. But when an American beauty runs him off the road in a blizzard and a storm leaves them stranded, it seems like a disaster. Until their time alone turns into an unexpected Christmas to remember!