In Snowbound with his Innocent Temptation by Cathy Williams,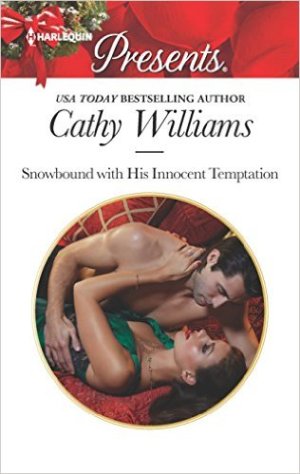 Theo Rushing is in need of a temporary fiancée to help him cheer his mother up, and Becky Shaw is the perfect woman. However, when she suggests that their engagement remain platonic, Theo doesn't know whether to be relieved or annoyed. Then again, he does have an ulterior motive when it comes to the lovely Ms. Shaw, so maybe the 'no sex' rule is a good thing. But with the strong chemistry blazing between them, can Theo convince Becky to change her rule, or will his deception destroy any chance they have at happy ever after?
"Why are you telling me this?" he asked softly and Becky looked at him from under her lashes.
"Why not?"
"Because you've been resisting my questions ever since I turned up here and started asking them."
Becky's flush deepened. "I don't know you," she said honestly, shrugging. "And once you leave my house I'll never see you again. You're not my type – you're not the sort of person I would ever want to continue having any sort of friendship with, despite the weird way we've happened to meet."
This is the first book I've read by Ms. Williams, and being a story that encompasses the opposites attract and fake relationship tropes, I absolutely enjoyed it from start to finish. How it started with the heroine worrying over her job and then how she mistakes the reason for Theo being where they meet sets the fast-pace of this story and I couldn't help be drawn in by their strong chemistry.
The dialogue was intense due to the main characters back stories, especially that of the hero. He doesn't do relationships, and being able to convince his mother that he's fallen for a woman completely opposite to the kind of women he usually dates isn't going to be easy. However, there were some light-hearted moments that had me smiling. Becky and Theo both let their guards down, which increases the sexual tension between them, even though the hero is deceiving her with his intentions towards her family home.
"I was drifting." She ignored his little jibe. "And you were a wake-up call."
"Am I supposed to see a compliment in that?" He drawled. "I don't think I've ever been described as any woman's wake-up call."
"When this is over and done with, I feel that life can really start again for me."
"I suggest we just get through the next couple of weeks before you start planning the rest of your life."
Becky was a really good heroine. She's rather innocent when it comes to men and sex. She drew me into the story immediately, because she has some big decisions to make. What is she going to do about her job? Will she help Theo deceive his mother? What will she do when she learns of Theo's deception? While Theo, he's kind, caring and will do anything for those he loves, as proven by what he's doing for his mother when it comes to getting closer to the heroine. Also, I could understand why he doesn't do relationships, because of having to watch how his mother declined after losing his father. He was the love of her life, and she hadn't recovered from his loss.
Overall, this was a really good book with a strong romance that illustrated how good these two are together. Their fake relationship appears to have everyone fooled, which was good because Theo needed to realize that love is worth all the ups and down. The way this story ended was wonderful, and I liked how Becky challenged Theo to confess what he really wanted with her and why he ended up changing his mind because she needed to know whether he felt the same way for her as she did for him. I would recommend Snowbound with his Innocent Temptation, if you enjoy the fake relationship or opposites attract tropes.
Book Info:

Publication: October 18th, 2016 | Harlequin Presents |
From festive fling…
When heartbroken Becky Shaw retreats to the Cotswolds for Christmas, she expects to be warming herself in front of a fire, not in the arms of gorgeous Italian billionaire Theo Rushing. As a snowstorm rages outside, indoors the temperature starts to rise…
…to fake fiancée!
It was meant to be a holiday fling, until Theo reveals he needs a fake fiancée and sweeps Becky away to Italy and his luxurious world. To protect her heart, she agrees to a "relationship" in name only, but as the chemistry between them crackles, how long before Theo and Becky pass the point of no return?