Snowed In With A Billionaire by Karen Booth is a holiday themed romance about a woman down on her luck who gets a hand from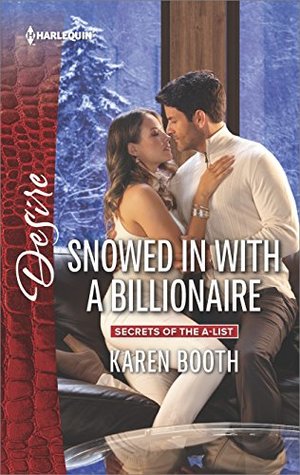 fate.
Joy McKinley is trying to get back on her feet. After leaving home due to an abusive ex, then having to quit her job in California, the son of her last boss gives her the keys to their family chalet in Vail, Colorado to regroup over Christmas. Joy is able to get a job at the local bakery, and counts every penny, knowing she has only a short time to find a real place of her own. When a near accident in snowy conditions results in billionaire Alexander Townsend stranded with her at the estate, Joy can't afford to tell him who she really is, since she's not supposed to be staying there.
Alex knows that something isn't quite right about Joy's evasion to fairly simple questions. He's been burned before, when a fiancée turned out to be after his money, and didn't really love him. But even if she doesn't want to tell him personal details, her actions show her to be a caring and vivacious woman. He's only going to be in Vail for a few weeks, and a sweet holiday romance is just the thing to put some of his business worries behind him. But can he afford to risk his heart on a woman who might have one too many secrets?
This is a classic 'trapped in a snowstorm' trope story with Christmas on its way. Joy is feeling lonely, not being able to spend the holidays with her family due to her stalkerish ex-boyfriend. While she is able to share some parts of her personal history with Alex (including this one) she's not about to tell him that she doesn't really belong in the high class estate, or that she believes he's way out of her league. Much of the book is spent waiting for the other shoe to drop – that is, waiting for Joy to come clean with Alex about who she really is, and why she is there. This was a bit frustrating as it seemed to go on longer than necessary.
On the plus side I liked Joy's character as a baker, even if I didn't always agree with her choices. She made me want to eat scones while I was reading this! And Alex is a very likable character as well. There is definitely some good chemistry between them and their love scenes are sexy and fun. Of course the truth does come out, and Alex must decide whether he'll forgive the woman he's come to care so much about. Luckily, things work out for them in the end, and there is a sweet epilogue too. Fans of forced proximity plots and billionaires with a soft heart will enjoy this sexy romance.

Book Info:

Publication: Dec 01, 2017 | Harlequin Desire | Secrets of the A-List #2
There's a sexy secret under the tree this Christmas…
With no money and her real name under wraps, chef Joy McKinley isn't expecting the greatest Christmas. At least her hideout is a luxury mountaintop estate. But when a gorgeous, gallant, incredibly sexy billionaire ends up snowbound with her, Joy wishes she could tell Alexander Townsend the whole truth about herself. Especially when the one thing she shares is her bed—and then discovers he has as many trust issues as she does. Will keeping secrets cost Joy the best Christmas gift she's ever received?