In Snowflakes on the Sea by Linda Lael Miller, Married life hasn't always been perfect for retired rock star Nathan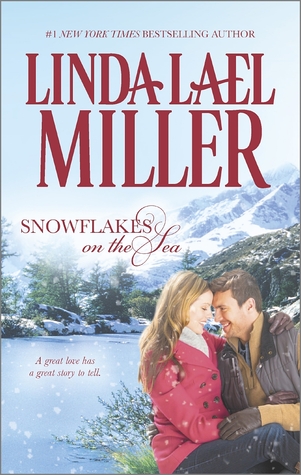 McKendrick and his wife, former soap opera star, Mallory. They've shared laughter and tears like any other couple, but being in the public spotlight has caused its fair share of issues. This Christmas, before their kids and grandkids descend upon their home, Mallory and Nathan trade stories about the best–and worst–times from over their forty years together.
"You and I should never talk, Mallory," he said in a hoarse, hypnotic whisper. "The minute we stop making love, it's war."
One of the most harrowing times for the McKendrick's was about six years into their relationship. Both Nathan and Mallory were unhappy spending so much time apart, with Nathan on a worldwide rock tour, and with Mallory's filming schedule. Between tempers flaring and people in their inner circle creating friction, their intense chemistry could only hold them together for so long before things spun out of control. Picking up the pieces of their marriage and finding a way to put things right again will take every ounce of strength Nathan and Mallory possess.
"I know we've got a long way to go before we get this marriage back on its feet, but please–don't leave me."

Never in the six years she'd been married to Nathan had she seen him reveal so much open vulnerability.
Linda Lael Miller's reissue of this 1984 classic holiday romance is so chock full of drama and passion, you'll think you died and went to soap opera heaven as you read it.
I really liked the idea of taking a tried and true story and putting a little bit of a new spin on it. And that's what happened here with Mallory and Nathan's story. This was reworked so the new introduction and epilogue was of this couple, decades later, reflecting on one of the toughest times they faced during their marriage. I've read a couple of stories with a similar set up as part of the storyline, albeit not reissues. It usually works very well, but especially so when done as part of a Christmas themed story. The holidays are a great time for reflection anyway, so this falls right into place.
I wasn't kidding when I said Mallory and Nathan's relationship was fueled by drama. It was both comical and intense to read, while it certainly kept the story lively, if not a bit frustrating at times. They seemed to have a pattern of argue, have sex, argue, have sex, and so on, which probably stemmed from a lack of communication on both their parts. Overall I liked our hero and heroine and thought they both had a certain spark. There were some very touching moments as Nathan and Mallory worked through their differences, learning to compromise and voice their feelings.
I think long time fans of Linda Lael Miller's novels will enjoy the chance to see how this romance holds up thirty years after it was initially released.
Book Info:

Published October 28th 2014 by Harlequin HQN (first published 1984)
Christmas 2014:
Nathan and Mallory McKendrick remember the troubles and triumphs they faced in the early days of their marriage. But their love story is far from over! It's a story they tell each other often…especially at Christmas.
Winter 1984:
International singing sensation Nathan McKendrick had it all—the looks, the talent, the charisma. It's not surprising that half the world was infatuated with him! No one more so than his wife, Mallory. The success of their marriage had always defied the odds—and the rumors. Then, suddenly, the bond between them was damaged, and Nathan and Mallory had to choose—fight for the love they still shared or let circumstances destroy it.
In the end, there was only one choice. They had to save their marriage.
And now, every year that goes by, every Christmas they spend together, reminds them that their love is everlasting…