In So Over You (Chicago Rebels #2) by Kate Meader, Coaching for her late father's hockey team, the Chicago Rebels, was supposed to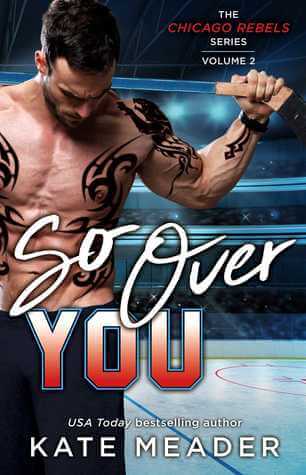 happen after Isobel's career in the new NCAA Women's Hockey League ended. But a life-threatening injury during her first professional game changed everything. Now dealing with the fallout from her father's will and trying to forge a relationship with her two half-sisters, Isobel is forced to work one-on-one with injured hunky Russian left-winger Vadim Petrov. He also just so happens to be the one who was Isobel's first sexual partner almost a decade ago. But unfortunately, even though the chemistry was explosive between them, that didn't mean there were any, ahem, fireworks for her. When Vadim somehow finds this out, he shocks her by wanting to prove his prowess in the bedroom. As tempted as Isobel might be, she's worked hard to keep her new coaching career on track and has to remind herself that fraternizing with the players is a risky shot to take.
"I would like to apologize. Properly."
Her lungs went on hiatus. He couldn't mean what she thought he meant. "Apology accepted," she said cheerfully…
"You choose to act clueless about what I mean?"
"Are you offering to apologize with your penis?"
"It is my most improved area."
Knowing that injuries are part of the world of hockey, Vadim has tried to shake off the funk he's been in since damaging his knee. But being traded in the midst of the season to a team with a bad reputation isn't exactly a good thing. Although when he finds out his skating coach is none other than Isobel, the girl who captured his heart in his late teens, things start looking up. Vadim is still just as crazy-attracted to his 'Girl with the Blazing Skates' as ever. But to hear the rumor that he didn't satisfy her during their one and only time together–her first time, no less–well, that won't do. It's not that he has a reputation to uphold. Vadim could care less that the press calls him the Czar of Pleasure. No, when it comes right down to it, he must admit that even more than he wants to win the playoffs, he wants to become the Czar of Isobel's Heart. And he knows that he's in for the fight of his career and his life to prove it to his beautiful Bella.
Isobel had been his from the moment he saw her on the ice eight years ago, her wild hair streaming from her helmet as she dispossessed a male player twice her size.
"Who is that? he said in awe to the man beside him.
"My daughter," the man replied. 'She's going to change the world."
Little did Vadim know that the world she would change was his.
So Over You had everything I love about Kate Meader's writing: Heat, heart, laughter and genuine emotions. Add in a sexy, brooding Russian hockey player and a kickass former women's hockey champion and you've got yourself a smokin' hot story!
'Once there was a boy, infatuated with a girl, desperate to have her. Too desperate, it would seem, for he hadn't taken care of her in the way a woman, especially a virgin, should be cared for.'
I am never disappointed when I pick up a book by Kate Meader. But I have to say that this Chicago Rebels series just keeps wowing me with its multidimensional characters and their steamy, complicated romances. In Isobel and Vadim's case, theirs was a second chance romance (one of my favorite tropes) with a twist. I love that Meader wasn't afraid to make her tough hero out to be, well, not-so-good in the sack back in the day. Yep, Meader went there. And boy was it fun to see Vadim, the so-called Czar of Pleasure, be taken down a notch or two when he realized he didn't make a good impression on Isobel their one and only time together. What was even more fun was watching him try to make up for it and seeing the way it also humbled him a bit.
Just like with the first book, I thoroughly enjoyed the hero and heroine here. They had a great dynamic together filled with lots of chemistry of course, but also with a true connection. Vadim and Isobel were coming from very similar places in life so they understood each other well. They were both battling family issues as well as having faced down serious game-related injuries. I thought it was realistic the way Meader showed Isobel being almost jealous of Vadim's getting another chance to play hockey when her own career had been shattered. So not only was there the lingering feelings between them to sort out, but there was also that smidgen of animosity to wade through, too.
Vadim surprised me a few times with how deep his feelings ran for not only Isobel but for the other people in his life. The oftentimes cranky Russian had a heart of gold and was one of the most lovely, giving people you could meet. I had to sigh happily over how hard Vadim fought to prove to Isobel–his Bella–that they belonged together. But I got where she was coming from emotionally. So, to me, her reactions and her tendency to push him away just proved that Isobel had grown as a person and was looking out for her career as well as her heart. Oh, how I loved their bantering though! Funny, sexy, smart. It was snappy and modern, and kept me in stitches as they duked it out verbally. The same goes for Isobel's conversations with her sisters Harper and Violet. They were all so quick-witted and strong in their own way that it was like watching a comical tennis match as I read through their dialogue. So. Much. Fun.
Now this is how sports romance should be written. Fast-paced and well plotted out, So Over You is definitely keeper shelf material. And I have a feeling that each new future installment will be every bit as wonderful.
Book Info:

Publication: Published December 4th 2017 | Pocket Star | Chicago Rebels #2
Three estranged sisters struggle to sustain their late father's failing hockey franchise in Kate Meader's sizzling Chicago Rebels series. In this second entry, middle sister Isobel is at a crossroads in her personal and professional lives. But both are about to get a significant boost with the addition of a domineering Russian powerhouse to the Rebels….
Isobel Chase knows hockey. She played NCAA, won Olympic silver, and made it thirty-seven minutes into the new National Women's Hockey League before an injury sidelined her dreams. Those who can't, coach, and a position as a skating consultant to her late father's hockey franchise, the Chicago Rebels, seems like a perfect fit. Until she's assigned her first job: the man who skated into her heart as a teen and relieved her of her pesky virginity. These days, left-winger Vadim Petrov is known as the Czar of Pleasure, a magnet for puck bunnies and the tabloids alike. But back then… let's just say his inability to sink the puck left Isobel frustratingly scoreless.
Vadim has a first name that means "ruler," and it doesn't stop at his birth certificate. He dominates on the ice, the practice rink, and in the backseat of a limo. But a knee injury has produced a bad year, and bad years in the NHL don't go unrewarded. His penance? To be traded to a troubled team where his personal coach is Isobel Chase, the woman who drove him wild years ago when they were hormonal teens. But apparently the feeling was not entirely mutual.
That Vadim might have failed to give Isobel the pleasure that was her right is intolerable, and he plans to make it up to her—one bone-melting orgasm at a time. After all, no player can perfect his game without a helluva lot of practice…