Soldier, Hero…Husband? by Cara Colter: What happens when you have two people who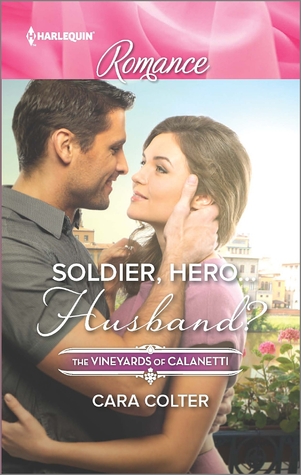 care so much about others that they let themselves get lost in the commotion of the real world?
Isabella Rossi was content, for the most part. She had loved her best friend and even married him knowing it wouldn't be long before they were forced to part. So now a widow and a teacher she had a good life. Good friends, nice house and a great town. She occasionally took in borders, to help the loneliness as well as the finances. All in all it was nice, as long as she didn't think too hard about the babies she was missing out on.
Connor Benson had been through hell. As a SEAL he had seen it all and he knew he wasn't the right kind of man to bring anyone joy, he had seen and done just too much. That wasn't going to stop him from protecting everyone he could though. That was why he went to Italy. He was running security for a wedding and then realizing how little protection the town actually had, including his landlady, the lovely widow.
Connor is determined to fight his feelings for the widow Rossi. She is just too light, to bright, to wonderful to be with him. When she starts to crack through his hardened façade though all bets are off. Will he ever be willing to let in the light?
Wow, this is a story that grabs you from the first moment and no matter what you have calling you it does not let you go. Ms. Colter has brought us back to the Vineyards of Calanetti, though this story can stand on it's own when you add her descriptions to those of the ones that have already been given wow. The love story is so much more than romance, the feelings portrayed so realistically and the emotions that are described actually go beyond the words to make you feel them.
Soldier, Hero…Husband?  by Cara Colter is a beautiful love story that hooks you in from moment one and never lets you go.

Book Info:

Publication: October 6th 2015 | Harlequin Romance | Vineyards of Calanetti #4
The tortured hero's happily-ever-after
Former navy SEAL Connor Benson is in beautiful Tuscany, but he can't forget his time on the frontline. Meeting beautiful Isabella Rossi reminds him of everything he once fought for…and everything he can't have.
Isabella understands what it's like to be stuck in the past—since becoming a widow she's been sleepwalking through life. But handsome Connor's delicious kisses are waking her up, and his courage inspires her: she must fight for the love they both deserve!The Vineyards of Calanetti
Saying "I do" under the Tuscan sun…