In Some Kind of Wonderful (Puffin Island #2) by Sarah Morgan, When archaeologist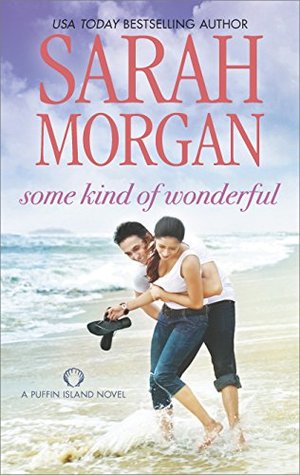 Brittany Forrest traveled back to her childhood home on Puffin Island, Maine to recover after breaking her wrist, she never dreamed she would come face to face with her ex-husband Zach Flynn. Their brief but intense relationship broke her eighteen year old heart. Ten years older, and hopefully wiser, Brit attempts to let the past go. With no hope of avoiding the troubled pilot on such a small island and with her feelings for him growing, she's forced to make the decision to either give things another shot or walk away for good.
'She felt an ache in her chest because she knew, despite everything, he was still afraid to let anyone in. ..Maybe when you'd grown up with the bad, you didn't ever dare trust the good not to disappear.'
Trust is not something Zach has ever fully had in another person. With his dark childhood, he knows he can only rely on himself. He wishes he could have given Brittany everything she deserved in a husband instead of walking away like he did. But now with the chance to face her anger and wrath, she acts as if nothing really happened, which is almost worse. Zach may not be ready to name the emotion swirling inside his chest whenever he's with Brit, but he's not sure he's ready to let her go either.
"I'm not going to change. If you're a smart woman, you'll walk out of here and not come back."
"That just shows you don't know as much about women as you think you do, because no smart woman would turn her back on sex this good."
Despite everything, she made him smile.
Some Kind of Wonderful was a perfect example of how a second chance romance should be written. Realistic lingering chemistry? Check. Unresolved issues? Double check. And two people who are destined to be together, no matter what? Absolutely, check!
'There was nothing civilized about the chemistry between them. Never had been. Being with Zach had been the most dizzying and exciting time of her life. Until he'd dumped her.'
Having previously read and enjoyed several novels by Sarah Morgan I've probably said this before, but she is a truly talented writer when it comes to evoking emotion in her character's heartfelt scenes. There are only a handful of authors who can manage to completely wrap me up in the love and the drama the way she can. Some Kind of Wonderful did just that, grabbing hold of my attention and pulling me through every intense emotion Zach and Brittany felt and worked through until the very end.
Even if you haven't read the first book in the Puffin Island series (these can be read as standalone titles) it will be clear from page one that Brittany and Zach have never gotten over each other. For good reason as it turns out, because they were perfect together. Zach was sadly kind of a classic case of an abused, neglected child growing up into an emotionally closed off, untrusting adult. I loved watching him slowly, almost begrudgingly, accept the trust and kindness Brit and her friends showed him. There were also some heartwarming moments between Zach and some of the camp kids (and one special bulldog!) that I thought proved his real ability to show compassion and tenderness. *sigh*
Brittany was quite a firecracker and I loved her energy and loyalty. She kept former bad boy Zach on his toes, eventually working her way into his life and showing him how well suited they were together. To me, her transition from being angry over how their marriage ended to realizing how much stronger her love was for Zach now seemed pretty realistic. I liked that it wasn't all happy and perfect when they saw each other again. There was an awkward stage before their passion resumed with a vengeance. Brit's emotions were believable and it made it easier to empathize with her.
A love story where the bad boy finally gets his good girl, set on a wildly beautiful island befitting their relationship, Some Kind of Wonderful is a definite must for romance fans.

Book Info:

Publication: December 29th 2015  | HQN Books | Puffin Island #2
USA TODAY bestselling author Sarah Morgan will sweep you away with her Puffin Island series! In a town where anything can happen, sometimes love can be found in the most unlikely place of all…
Her whole life, Puffin Islander Brittany Forrest has dreamed of adventure. And at the age of eighteen, she thought she'd found it in bad boy Zachary Flynn. But after just ten tempestuous, smoldering days, their whirlwind marriage went up in smoke, and Brittany resolved to put him out of her mind forever.
Zach knows he let Brittany down, but being back on Puffin Island and seeing Brittany again stirs up long-buried emotions. This daredevil pilot has never felt worthy of her, yet he can't stay away–even when he knows the chemistry between them will only complicate his life.
As long, hot summer days on the beach dissolve into sultry, starry nights, Brittany and Zach find that the sparks between them are more powerful than ever. Could it be that the second time around, their dreams of a happy-ever-after will finally come true?