Some Like it Hotter by Isabel Sharpe: Eva was a rebel. Not so much in the break the law kind of a way but more in the break the "rules" of society kind of a way. She always had been, her sister, her twin, was more straight and conforming. So it really was no surprise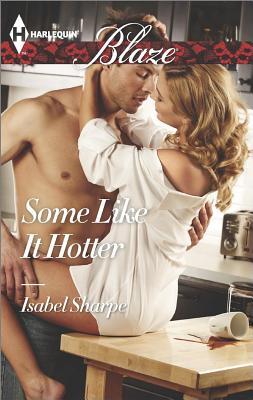 when Eva ended up in California to run a coffee shop and Chris, her twin, in New York City to run hers. What was a surprise was when they both got bored at the same time and decided to switch lives for one month to break the ruts they had gotten themselves into.
Ames is a workaholic, there was no other term for it. Granted that didn't make him stand out in New York City, everyone there pretty much was a workaholic as well. He also fancied himself Chris, his local coffee shop owner and was on a campaign to win her. So when he walked into her shop and ran into her very different twin he wasn't really sure what to do.
What happens when you put a free spirited California girl with a workaholic New Yorker? Will these two even get to have a first date? Sometimes roadblocks to relationships are real and sometimes they are just things we build in our heads that can be taken down once we let ourselves really be who we want/need to be.
Ms. Sharpe has begun a two part series with Eva whose spirit is infectious and playful. While the premise is something seen before Ms. Sharpe has added some twists and turns that are out of the norm. The book has a very light feeling about it and while I wish she would have delved into some of the issues a bit more it was nice to see the story progress. I will say this story is not for the faint of heart, there is some juice to it and some of the heat may be a bit much for some. I'm looking forward to Chris' story and hope that we will learn more about the fate of Ames and Eva when that happens.
Book Info:

Published September 16th 2014 by Harlequin Blaze Series #816
She takes hers tall, dark and extra hot!
To coffee-shop owner Eva Meyer, the California coast is beautiful, mellow…and boring. The solution? Swapping lives—and coffee shops—with her twin sister for one month. Now Eva's settled in the bustling Big Apple, where she can order anything…anytime.
And what Eva really wants is the extra hot, topped-with-whipped-cream sexiness that is Ames Cooke.
While Eva is convinced she's found her perfect cup of Delicious Man, Ames isn't quite sure what to do with the quirky little number who's charged into his life. He's supposed to be attracted to someone cool and reserved—like her sister. But Eva has the unnerving ability to turn things seriously hot and steamy. Besides, it's only for one month. And like every good coffee addict, Ames can stop whenever he chooses….