In Someone Like Her (K2 Team #2) by Sandra Owens, Jake, aka "Romeo" is a former SEAL who is alpha through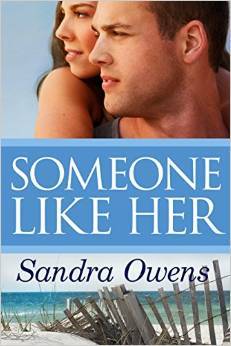 and through. He lives up to his nickname, not looking for longevity or commitment. Working in a high risk job for his friend Logan's company, Jake is happy with how his life is going.
Maria, Logan's younger sister, and her brother had a horrible childhood and she's never felt wanted or loved by anyone but Logan. This feeling and the need to belong and be loved gets Maria into a very dangerous situation. But it's not Logan she calls for help, it's Jake. Jake is also the man she's always wanted…in a way she's sure he doesn't want her.
When Maria calls, Jake will do anything to keep the woman he's secretly attracted to safe. The danger to Maria is not going away and her hopes are dashed, but spending time with Jake is no hardship for her. Little does Maria know the extent of his feelings or that her brother warned Jake to stay away from Maria – or that Jake feels like Maria deserves so much better than him. He's who she wants though, and as they try to keep danger at bay, temptation might be too much for both of them. Maria's not sure where things will go if anywhere with Jake, but she's willing to take the chance. Can he though? Can he ever feel good enough for someone like Maria?
Maria and Jake are both strong characters who I really liked. Maria has been though so much, but she is so resilient. She is strong and independent, but knows when she needs help. She also knows who and what she wants in life, and though her age is young, she has had to grow up fast and is a very mature young woman. Sandra wrote Maria's character so well that she really made me not only feel for Maria, but feel what she felt. Jake as I said is a total alpha male! He's protective and really cares. He has his own issues to work through though, and it will be difficult. I loved the interactions, the chemistry and the fact that Maria and Jake have known each other for a long time. It made their characters and their relationship believable. Both of these characters are realistic with characteristics that make them easy to relate to in one way or another. I like it when an author can bring characters to life, making them seem like people I could know, and Sandra did this with Jake and Maria.
There are a few strong secondary characters in Someone Like Her, particularly Maria's brother who enhanced the plot. I liked how they all were together, they are good healthy relationships (although so protective on Logan's part!) without angst. Their interactions are all meaningful and very relevant to the plot.
Maria and Jake go through quite a bit in Someone Like Her, and I felt good about how Sandra wrapped up Maria and Jake's story. There are a few loose ends within the plot that I hope to see addressed in another book in this series. Someone Like Her is the second book in Sandra's K2 series, but having not read the first I can definitely say that this one can stand alone. Sandra gives just enough background that I was never lost or feeling like I was missing something.
Steamy and suspenseful, Someone Like Her is a thrilling emotional ride that I'd recommend to any romantic suspense reader.
Book Info:

Published January 6th 2015 by Montlake Romance | (K2 Team #2)
Known to the K2 Special Services team as Romeo, ex-Navy SEAL Jake Buchanan may spend his downtime living up to his nickname, but there's one woman who sets his heart racing like no one else can: Maria Kincaid. Unfortunately, his boss – her brother – has made it crystal clear that she's off-limits. Jake doesn't do commitment, while Maria is the type of woman who deserves a promise of forever. Yet Maria finds herself drawn to Jake, the man who stares at her with a desire she wishes he'd act on.
Still haunted by her horrific childhood, Maria goes searching for the father she's never met and stumbles into a nightmarish experience. With her life in grave danger, she reaches out to Jake, her brother's second-in-command. Jake figures he can help Maria without giving in to temptation. But some things are easier said than done.