In Something Like Family by Heather Burch, Rave Wayne has always tried to make the most of what little he has. Growing up with a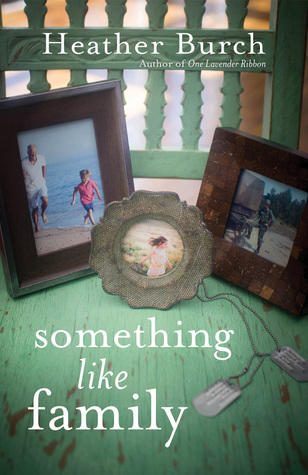 drug addicted mother who ditched him in his mid-teens taught him how to stand on his own feet and to only trust those who prove themselves worthy. And Rave thought his girlfriend Ashley was one of those few people who would always be there for him. But when she suddenly cuts him out of her and her son Daniel's lives, it sets off a chain of events that leaves him alone, broke, jobless and essentially homeless.
Rave grinned. "I know my mother caused you a ton of heartache. She had to have. But you got me in the bargain. Took a while, but we found each other. And now I have roots. All because of you."
So at Rave's lowest point is when an attorney finds him, explaining that his grandfather Tuck has been searching for him and would like to get to know him. With nothing holding him in Florida, Rave travels to Barton, Tennessee and finds what he's been looking for: Family. Tuck is every bit as pleased as his grandson to finally make a connection and hopes he can convince Rave to settle down in the area. There are things he needs to tell him about Rave's estranged mother and about Tuck's own failing health, but all in due time.
'Tuck was all right with the fact of his mortality, but the thought of leaving Rave stabbed at his heart. Too many had left Rave already.'
First and foremost, Tuck is determined to make Rave feel welcomed and loved. And it doesn't take long for them to settle into a fairly comfortable routine, considering the age gap between a seventy-six-year-old and a twenty-two-year-old sharing a living space. It's the women in Rave's life who once again throw things into chaos when he first falls for local girl Becca, a sweet and sassy waitress who can melt him with a smile. But it's the unexpected arrival of his mother in town, whom he thought was dead, that really makes Rave do some soul-searching, trying to decide whether he can forgive the person who abandoned him five years ago.
'Rave was a unique human being, able to give all he had to those he loved. She'd never met anyone like him, and that alone should terrify her. But it didn't. It made her feel privileged to know him.'
Multi-generational family drama. Gut-wrenching emotion. Sweet & lovely romance. Something Like Family was a spectacular new work of fiction by Heather Burch that I refused to put down until I had read (devoured) every single word.
'Memories, he'd learned, were the cornerstones of life. A person could survive almost anything if the memories they kept in their hearts were good. Sometimes memories were all you had.'
Some books–as well as some writing styles–simply *fit* with a reader. And this was one of those occasions. Everything about Something Like Family worked for me, from the down-to-earth characters I adored to the real life situations they faced to watching them all find their own personal redemption, I felt completely at home with and invested in it all. I think that's a true testament to Heather Burch's storytelling abilities for sure. She was able to weave in so much depth of emotion, and for me it especially hit home through the flashback scenes from Tuck's POV about his late wife and his estranged daughter. His memories were alternately heartwarming and full of despair so I found it quite touching to see all he had been through in his life and understand him better.
Tuck's grandson Rave was another stellar hero. You want to talk about heartbreaking? Ugh. Rave's life had been nothing but him being let down and emotionally pushed around, sadly mostly by women, and when this story began he was struggling to keep a roof over his head and enough food to eat. He was such a kindhearted guy, though, so I found myself cheering him on right from the start. I love, love, love the relationship that grew between Rave and Tuck once they found each other. They were both lonely and pretty much cut from the same cloth, being upstanding guys who cared deeply. They had some fun times together–even though things were rather bleak–but to me it had a genuine feel to it and I loved watching them interact and learn from one another.
In addition to the family issues there was a bit of romance in the air, starting off with both Tuck and Rave being rather brokenhearted and then finding women worthy of their generous hearts. Becca was Rave's love interest, and the romance we got to see most in detail, but it was clean and didn't overshadow the storyline. I thought they were ridiculously cute together and had to laugh at the nicknames they gave each other: city boy and redneck girl. Becca was every bit as giving and strong as Rave so they made a wonderful pair. And I had to sigh with how sweet it was toward the end of the book to watch as Tuck finally opened up enough to date his neighbor Trini and how good she was for him.
I really can't say enough fabulous things about Something Like Family. I think readers who enjoy going on emotional journeys will cherish this book and will find room for it on their keeper shelf. Highly recommended.
Book Info:

Publication: September 12th 2017 | Lake Union Publishing |
Abandoned by his mother when he was young, twenty-two-year-old Rave Wayne knows all about loss. That doesn't mean he's used to it. After he's dumped by the girlfriend he assumed he'd spend his life with, Rave is longing more than ever to connect.
Then, as if by miracle, he receives an invitation from his grandfather, a man he thought was long gone, to come for a visit in rural Tennessee. Loyal, honest, and loving, dear old Tuck is everything Rave could have hoped for. He's family. Soon, Rave finds himself falling for a down-to-earth local girl, and he thinks his life is finally coming together.
But the past isn't through with Rave. When his mother returns after many long years, looking to reconcile the terrible mistakes that once defined her, Rave struggles to put together the unsettled pieces of his heart. Will this once-estranged family be able to come together to understand the meaning of unconditional love, the fragile bonds of family, and the healing power of letting go?