In Spare Hearts by Dorothy F Shaw and TD Hoffman, Being the night manager at Bowling Dreams is definitely never dull, but it has never been so sexy until Candy Jameson lays eyes on Sterling Dey. She's admittedly been lonely since her ex-husband left town a few years ago and has thought about dating. However, she wants to avoid giving the local ladies anything more to gossip about when it comes to her love life. Then ex-pro bowler Sterling wanders into town one night and sets her heart (and body) on fire. He's easy on the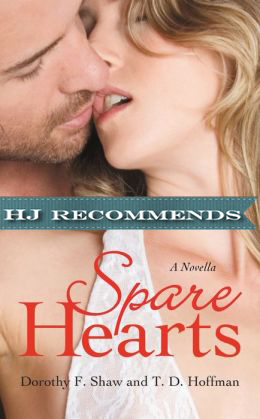 eyes, quick with a smile and a serious flirt, to boot. Candy can definitely see herself having a night of wild passion with the cowboy, even though she's not usually that type of girl. But he's obviously not going to be around town for long.
"Maybe you needed a little lucky charm around to show off for." She batted her eyes at him. My Lord, did that just come out of her mouth?
"Maybe so." He set his sucker, still in its wrapper, next to his glass. "Or maybe I need better candy."
"Well, Sterling, I happen to know for a fact that Strawn has the best candy around for miles." She looked up at him through her lashes. Candy couldn't believe she was flirting like this with him. But she didn't want to stop either. It was fun to cut loose with a guy for a change.
Candy has the night of her life with Sterling and wakes up still dreaming about the things they did. Much to her surprise, she finds out that he's in town for a month and will be practicing at the Bowling Dreams every day gearing up for a competition in Fort Worth. That sends Candy into a tailspin, not knowing how to act when they see each other again at the lanes. Sterling makes it pretty clear that he's hoping to continue their fun while he's in town, but she's worried she could lose her heart to him. He is the perfect man: he cooks, does dishes, is tender one moment and then dirty the next. Candy decides to give it a shot and just enjoy the time they have together with no regrets. She just hopes when the month is up, she'll be able to kiss him goodbye without kissing her heart goodbye in the process.
"You taste as sweet as I think?"
She licked her lips. "Try me and find out."
"Damn, girl." He smoothed his hand from her lower back down over one ass cheek. "One minute you're shy and blushin' and the next you're full of spit and vinegar." Sterling ran his thumb down her bottom lip, tugging then releasing it. "Don't mind if I do." He dipped his head.
Sterling Dey is completely focused on the task at hand: winning the Fort Worth bowling tournament. He's ready to prove the naysayers wrong and win a championship title again after a debilitating shoulder injury stopped his career about nine years ago. He's playing better than ever when he rolls into Strawn, Texas to set up camp at the Bowling Dreams. The second he spots Candy behind the counter he knows he's in for quite a ride. She's gorgeous and smart with a witty comeback for every line he gives her. She talks him into a game of strip bowling his first night in town and he's completely taken with her from that moment on. They have such incredible chemistry together that Sterling has trouble focusing on anything but Candy. Somehow it doesn't hurt his bowling game as his scores continue to improve. She resists at first when he tries to talk her into a few more nights together, she has been hurt in the past, but before long they're together almost every day. His month flies by and then he's on to the tournament. But something is missing as he scores win after win. Can it be the lovely young lady waiting for him back in Strawn?
This is the first book I've read by Dorothy F Shaw and TD Hoffman and I'm hoping it won't be the last. It was hysterical, charming and H-O-T!!! The dialogue between Sterling and Candy is incredibly well written, full of southern twang. The love scenes are intense and scorchingly sexy. Even the secondary characters are a hoot…especially Trudie. Definitely check this out if you like very spicy romance with down home charm.
Book Info:

Published August 6th 2013 by Forever Yours
Stuck in this dead-beat town for too long, Candy Jameson is itching for some action. And the magnetically sexy, Sterling Dey might just be her chance to get back in the game . . . at least for a night. Soon the sparks flying between Candy and Sterling ignite into a fiery encounter that scorches the lanes. But when Sterling wants more than just one night with Candy, she's not sure she's ready to bet her heart on a one-night stand. Former professional bowling champion Sterling Dey wants to reclaim his title. This sleepy alley in a small Texas town with no distractions is the perfect place to practice-until Sterling lays his eyes-and more-on the joint's sultry night manager. As attraction becomes more than desire and the pins start stacking up against them, Candy and Sterling's future may just come down to the roll of the ball.
Add to: Goodreads.