AL Jackson writes with passion and emotion, and Stand is an intoxicating love story. It is the sixth book in the Bleeding Stars series, but they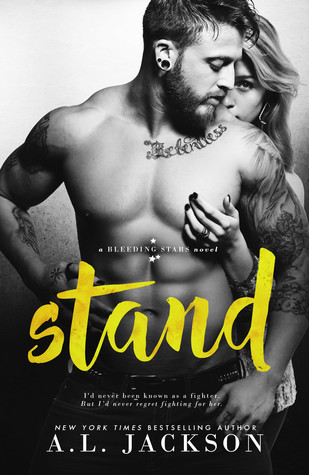 are all stand-alones and do not need to be read in order. But you WANT to read them, because they are all amazing.
Zee Kennedy is the quiet, steadfast drummer of Sunder, and he is a famous rock star that has always strived to live in the background out of the public eye. He is the caretaker of the band; he considers these men his family. His older brother was the original drummer, and Zee took his place when he tragically died. While Zee appears to live his life conservatively and scandal-free, he has big secrets that weigh heavily upon him. He hasn't gotten involved with women, because he can't risk anyone finding out the things he desperately needs to remain hidden. When he meets Alex Kensington, he is tempted—for the first time in a long time—to trust someone and let them into his life.
Alex's twin sister is in a dangerous situation, and she is willing to do almost anything to help her – even knowing doing so could endanger her own safety. She and Zee meet when he saves her from being raped during one of rescue missions, and from the moment these two lock eyes, neither are ever the same. The pull between them is undeniable and palpable; it is electric.
Zee swears he will stay away from Alex, but he can't. His inner turmoil is heartbreaking, because he is such a wonderful man and wants so badly to be with her. You ache for him to allow himself to lower his defenses and allow Alex in, because it is evident that she would be willing to share his burdens. He is so protective of Alex and wants to make sure she is making the right decisions with her system. It is hypnotic to watch Zee take care of her, and their love story is gut-wrenching and epically romantic.
My only complaint with Stand – it is the end of the series. 🙂 I love, love, love these rock stars, and I will miss them. AL Jackson writes sexy, captivating and unforgettable romances with heart, and I cannot wait to see what is next.

Book Info:

Publication: 5/21/17 | Self-Published | Bleeding Stars #6
Zachary Kennedy has never been known as a fighter, but he'll never regret fighting for her…
I'm Zee Kennedy.
Quiet. Reserved. Predictable.
When my brother died, everyone thought I was just the good guy who stepped up to take his place in the band.
No one knew what I was hiding. The one thing I've been fighting for.
For seven years, I've never lost focus.
Not until one chance encounter with Alexis Kensington.
Now she's become my greatest temptation.
I knew better than to touch her, but now that I've had a taste, I can't get enough.
Her kiss becomes my air. Her body my salvation.
She needed a savior and somehow she became mine.
Taking her was a betrayal. But keeping her means risking everything.
One look at Alexis Kensington, and I know she's worth the fight.
Will my past continue to keep me down or will I finally find the strength to pull myself up and Stand…