Star-Crossed by Kele Moon is the second book in the Battered Hearts series and it is terrific!  I was lucky enough to read and totally enjoy the first book, Defying the Odds. Star-Crossed is chock-full of swoon worthy romance, spicy love scenes, amazing suspense and a solid ending.   Kele Moon is a gifted and talented author, able to create a complex plot with hot, steamy eroticism.  Star-Crossed picks up where Defying the Odds ends, so you may want to read it first. However, although it is part of a series, it can be read as an individual book because splashes of history from the first book are woven into the first few chapters of Star-Crossed.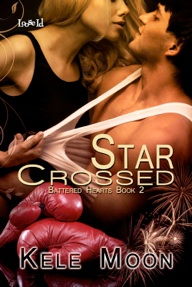 Jules and Wyatt are twins.  They live in the small town of Garnet, in the same house they grew up in.  They are both fighting champions and along with their childhood friend Clay, own a MMA (Mixed Martial Arts) training center.  Jules is the town lawyer and Wyatt is the town sheriff.  To say they are close would be an understatement.  Their sibling banter is comical.  They are so in tune with each other, as they gave each other guns for their birthdays.  Garnet is like Mayberry with one exception, prospective fighters come to town for their state-of-the-art facility to train.  Both Jules and Wyatt are craving love but don't know how to find it.
Romeo is a hunky, fighting champion.  He has two younger half-brothers, Nova and Tino, that he loves very much.  In fact, the love between the three brothers is both intense and heart wrenching.  They had a very tough upbringing, with their father being the only son of the head of the largest crime family in New York. Fighting for a living and being good at it, takes Romeo out of the horrific world he lived in growing up.  He does everything he can to deter his brothers' ties to the mafia. Due to his past, Romeo believes he will never be safe and thus, never be able to settle down.
Jules or as Romeo calls her Juliet, get together after Romeo looses a championship fight to Juliet's friend Clay in Las Vegas.  They instantly bond and sparks ignite.  Their time together is erotic and hot, hot, hot!
Romeo is in love with Juliet and wants to spend as much time with her as possible.  So he relocates to Garnet to train with Clay and temporarily escape the mafia.  Juliet and Romeo fall madly in love, but Romeo is constantly looking over his shoulder.  He never feels completely secure and he does not want to jeopardize Juliet's safety.  Due to various mafia circumstances and a dangerous fight with Wyatt, Romeo decides to leave Garnet. Juliet can't live without Romeo, so she joins him and they mutually decide to seek a new life together.
The ending of this book is intense and suspenseful.  I could not stop reading!  This is a well written story with a hot and sexy hero and a strong heroine.  The secondary characters are so interesting, a book could be written for each one.  Looking forward to the third installment about Wyatt.
Book Info: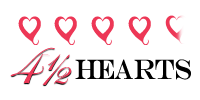 Publisher: Loose Id, LLC (February 28, 2013) Series: Battered Hearts; Previous Book: Defying the Odds
Heavyweight UFC fighter, Romeo Wellings comes from the hard streets of New York where his family ties to the mafia cause him nothing but pain. His life takes a surprising detour when he crosses paths with the twin sister of his long-time enemy. After a steamy, one-night stand, he faces the fight of his life, but it's not in the cage. The secret relationship that blooms between Romeo and his real life Juliet has him battling his family and a dark past rather than let her go.
The only lawyer in her hometown of Garnet, Jules Conner is also a volunteer Sheriff's deputy and co-owner of a successful MMA training center. Strong and dependable, Jules is always there for those who need her. Until one forbidden night in Las Vegas with Romeo leaves her feeling so alive she can't stop reaching out to the sexy bad boy of the UFC, even knowing the forbidden love affair could jeopardize everything.
As the tide rises against them and the people they love work at keeping them apart, Romeo and Jules hold onto a dream for a better life together and vow to go down fighting rather than accept a tragic ending.