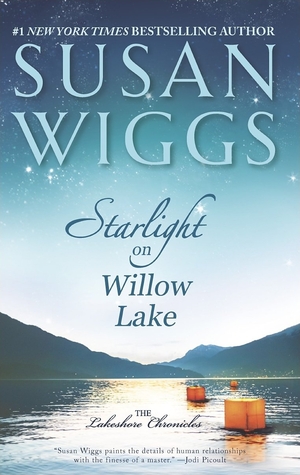 In Starlight on Willow Lake (Lakeshore Chronicles #11) by Susan Wiggs, Widow Faith McCallum is facing down an ongoing crisis, finding a job and a place to live. She doesn't want to move her daughters, seventeen-year-old Cara or eight-year-old Ruby, yet again. Things improve when she finds a home health aide position right in her current hometown of Avalon, New York. Working for quadriplegic Alice Bellamy will challenge Faith, thanks to Alice's anger issues, but she knows they can muddle through. Keeping Cara on the path to graduation and hopefully college, as well as dealing with Ruby's diabetes will only add to the stress, though.
"…How do you hold on to someone who's been gone so long?"
"Maybe you're not meant to remember the details. Just the feelings. Just the lessons. Just the love."
Faith stared at her. "Wow."
Alice laughed. "You don't get to be as old as me without learning a thing or two."
Mason Bellamy has held his distance from his mother for years after learning a secret that could tear his family apart. Since the loss of their father a year ago, the day that also severely injured his mother, he's been more of a financial manager to her, letting his brother Adam and sister Ivy tend to the emotional side of things. But being forced to stay at the estate on Willow Lake makes Mason look at his life through a different lens. Manhattan has been his home for years, however he can see himself settling down in a place like Avalon with someone like Faith and her children. Could it be possible to slow down and enjoy life for a change?
'He had all the money in the world. But of course, wealth had its limits. He couldn't buy his mother her mobility. He couldn't buy a way to make her smile again.'
Starlight on Willow Lake was as lovely a story as the title sounds. Written from the viewpoint of four individuals at very different places in their lives, their emotional journeys were detailed and explored in this touching small town story.
'She had taken so much for granted before all this started. Now she finally took to heart the hardest–and the simplest–of life lessons: let every moment matter.'
I absolutely know every time I sit down with a book by Susan Wiggs that I will get my money's worth. For me, she encompasses both Contemporary Romance and Chick Lit with her characters. Starlight on Willow Lake was a prime example as there was a romance brewing here between Faith and Mason, but there was also a huge amount of personal growth that they, as well as Cara and Alice, went through over the course of this novel. I think that aspect is what keeps me coming back for more: there is always so much to grab hold of in Ms. Wiggs' stories in terms of emotional depth.
This was a really intricate story, one which I have to be careful what I mention or I could give away some of the secrets. I can say that Faith and Mason had both known tragedy in their teens and it shaped who they became. They were both caring, giving people, but from different worlds socially and economically. But as was mentioned in the book, 'the heart wants what the heart wants', and their sizzling attraction and genuine feelings could not be denied. I got the sense that they truly understood each other by the ending and thought the way their romance played out was honest and believable. (And so sweet!!)
Alice, Mason's mom, and Cara, Faith's oldest daughter, were tough cookies who I thought were kindred spirits. Faith's youngest daughter Ruby was cute and lovable and I adored her for drawing Alice out of her depression with her thoughtful ways. Between both girls, I think that was what helped bring that spark back in Alice instead of remaining a curmudgeonly woman full of attitude. The scenes with Alice and the girls were a lot of fun but also held some special moments that were as inspirational as they were poignant.
Whether you read this as part of the Lakeshore Chronicles series or as a standalone, I think readers will embrace this thoughtful, heartwarming tale that was filled with realistic characters.
Book Info:

August 25th 2015 | by MIRA | Lakeshore Chronicles #11
#1 New York Times bestselling author Susan Wiggs sweeps readers away to a sun-drenched summer on the shores of Willow Lake in a stunning tale of the delicate ties that bind a family together… and the secrets that tear them apart…
When caregiver Faith McCallum arrives at the enchanted, lakeside estate of Avalon's renowned Bellamy family, she's intent on rebuilding her shattered life and giving her two daughters a chance at a better future. But she faces a formidable challenge in the form of her stubborn and difficult new employer, Alice Bellamy. While Faith proves a worthy match for her sharp-tongued client, she often finds herself at a loss for words in the presence of Mason Bellamy—Alice's charismatic son, who clearly longs to escape the family mansion and return to his fast-paced, exciting life in Manhattan…and his beautiful, jet-setting fiancée.
The last place Mason wants to be is a remote town in the Catskills, far from his life in the city, and Faith McCallum is supposed to be the key to his escape. Hiring the gentle-hearted yet strong-willed caregiver as a live-in nurse gives his mother companionship and Mason the freedom to return to his no-attachments routine. For Faith, it means stability for her daughters and a much-needed new home. When Faith makes a chilling discovery about Alice's accident, Mason is forced to reconsider his desire to keep everyone, including his mother, at a distance. Now he finds himself wondering if the supercharged life he's created for himself is what he truly wants…and whether exploring his past might lead to a new life—and lasting love—on the tranquil shores of Willow Lake.