In Stay With Me (Wait For You #3) by J. Lynn, College student Calla Fritz has spent her young life not only dealing with the scars, both physical and emotional, that a tragedy wreaked upon her, but also taking care of her absentee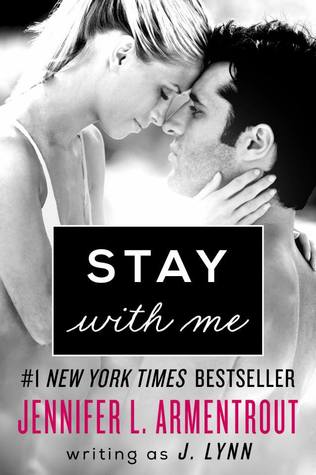 mother's multitude of problems. This time, though, she's gone too by far taking Calla's tuition money. Calla is now forced to track her down, although she's probably holed up somewhere getting high. But when she arrives in her hometown, it's not her mother running the family bar, it's sexy Jackson "Jax" James, who explains that Calla's problems are even worse than they appear.
'Jax didn't kiss me. Not my lips at least. His mouth veered off to the left at the last second, skating over my lips to my left cheek. He kissed the scar. He fucking kissed the scar. Emotion–violent and energetic–warred inside me.'
Calla may not have a lot of experience in normal social situations like most twenty-one year olds, but she knows she has an intense attraction to Jax. And that just can't be. He is the hottest guy she's ever met, so she's sure he wouldn't want a girl like her with a big scar running down her face. Along with the other scars that are hidden. But as the search for Calla's mother continues in earnest and threats mount, Jax proves just how much he really does adore her by watching out for her and helping her add some more interesting experiences to her life.
"…I'm in love with you."
Jax drew in a sharp breath as his eyes flared wide, and I realized he didn't think I was going to say that. He was an idiot if so, but he was the idiot I loved, so I said it again, and then he moved, dipping his mouth to mine, and that kiss…
Stay With Me was a fast-paced New Adult novel filled with drama, new love, humor, some angst, and more drama. I loved every moment I spent getting to know Calla and Jax.
"I fell for you before you even knew my name."
I am a huge fan of J. Lynn's Wait For You series. It seems as though with each new book, the characters and their stories stay just as unique and intriguing as ever. Calla's heartwrenching tale is certainly a testament to that fact. You can also feel free to read each title as a standalone. Although I have adored every single one thus far, so I would highly recommend them all! I am happy to report to those of you who have been faithfully following this series, that we still had some face time with all the previous couples we've met along the way. As Calla would say, the Hot Guy Brigade made an appearance. And it was as sexy & comical as always.
Calla completely won me over from the start with her childlike innocence in the face of all of the horrible things she's dealt with in her twenty-one years. I thought she was a cute, loyal, very brave young woman who met her match in Jax. They had such a wild attraction for each other that it was comical to watch them try to get a handle on it. And boy was Jax a charmer. Whew. *fans face* I wholeheartedly agree with Calla that he is the new captain of the Hot Guy Brigade. (Sorry Cam…still love ya!) The way Jax was devoted to protecting Calla, and how lovingly he helped her check off some of those never before done things on her list was just wonderful. I love that J. Lynn's alpha males have such a caring, fiercely protective side to them. It's enough to turn a girl's heart into mush. 😉
I hope you all enjoy Calla and Jax's touching love story as much as I did. I think you'll be cheering them on from the moment they meet, until the end when they finally get their HEA.
Book Info:
4.5 Stars HJ Recommends No Michele H
Published September 23rd 2014 by William Morrow Paperbacks | (Wait For You #3)
At 21, Calla hasn't done a lot of things. She's never been kissed, never seen the ocean, never gone to an amusement park. But growing up, she witnessed some things no child ever should. She still carries the physical and emotional scars of living with a strung-out mother, Mona—secrets she keeps from everyone, including her close circle of college friends.
But the safe cocoon Calla has carefully built is shattered when she discovers her mom has stolen her college money and run up a huge credit card debt in her name. Now, Calla has to go back to the small town she thought she'd left behind and clean up her mom's mess again. Of course, when she arrives at her mother's bar, Mona is nowhere to be found. Instead, six feet of hotness named Jackson James is pouring drinks and keeping the place humming.
Sexy and intense, Jax is in Calla's business from the moment they meet, giving her a job and helping her search for Mona. And the way he looks at her makes it clear he wants to get horizontal . . . and maybe something more. Before Calla can let him get close, though, she's got to deal with the pain of the past—and some very bad guys out to mess her up if she doesn't give them her mom.