In Stealing Taffy by Susan Donovan, Tanyalee "Taffy" Newberry is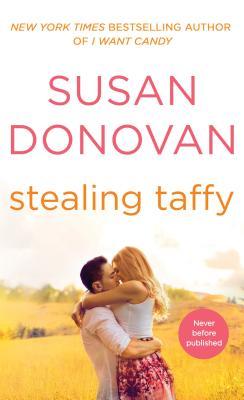 returning to Bigler, North Carolina, after a stint in an Arizona rehab. On the plane home she meets DEA Special Agent Dante Cabrera, and when the plan has to make an emergency landing, they spend the night together. Taffy sneaks out in the morning, both believing they'd never see each other again. That was until a case brings Dante to Bigler. When Taffy mentors a little girl that may have knowledge of the case, they run into each other again and pick up where they left off that night in the hotel room.
It's not often I don't finish a book, and I came really close in this one. There were times I put the book down and thought about giving up, but I hate not finishing a book. I thought that maybe there was a chance it would get better so I forced myself to keep going.
My main issue was Taffy herself. She was selfish and self-centered. She stole from her grandfather, tricked her sister's boyfriend into getting her pregnant and marrying him, only for him to divorce her when she tried to hide her miscarriage, and she stole from stores. Granted, she was returning home to make amends, but still that was a strike against her.
Then there was constant use of "Thankyousoverymuch" and "Sweet baby Jesus". Once in a while would have been ok, but it seemed like those two phrases were used over and over, to the point I started rolling my eyes.
I had to laugh at Fern's first thoughts of Taffy when the woman became her mentor.
The Newberry chick laughed loudly and then smiled all fakelike again. Fern wondered why she did that. Did she think it made her good? Because it didn't. It made her look simple, like she'd been dropped on her head as a baby or something."
I also shared her feelings about Taffy being annoying.
"You're a hilarious little kid," the woman said, smiling again. Fern wished to God she'd stop doing that. Really. This chick was so annoying that Fern was tempted to whack her across her shiny, white toothed, fake smile.
I liked Dante, other than the fact he wanted Taffy. For the life of me I couldn't figure out why in the world he wanted to be with her. I couldn't find any redeeming qualities for her until towards the very end of the book, and by then it was much too late to save it for me.
The behavior of Taffy's ex-husband, who was now her sister's husband, confused me. Through the book J.J. refused to listen to Taffy and forgive her. Then, out of the blue, he shows up to lend her support. It was a sudden turn around with absolutely no explanation as to why he changed his mind. It would have been nice to have known what convinced him to change his mind.
If you've read the previous books in the series and enjoyed them, you may enjoy this one. I haven't read the other two books, and based on the difficulty I had making it through this one, I don't think I'll be going back to try the others.

Book Info:

Publication: August 30, 2016 | St. Martin's Paperbacks | Bigler, North Carolina #3
Ten weeks in a swanky Arizona rehab center has done wonders for Tanyalee Newberry. She's turning over a new leaf – no more manipulating men, shoplifting, or forgery for her! But when her flight home gets rerouted in bad weather, she ends up sharing a hotel room (and seven hours of mind-numbing sex) with her airplane seatmate, a complicated Northerner who is clearly not who he says he is. Tanyalee sneaks off while he sleeps, leaving a bracelet as a memento of their encounter.
DEA Special Agent Dante Cabrera wakes up alone in a Washington, DC hotel room, bested at his own "love-'em-and-leave-'em" game by a sexy Southern belle. A pink and silver charm bracelet engraved with the word "Taffy" is all that's left of the wildest night he's had in years. And because his transfer request was denied, it's back to the hills of Western North Carolina Dante must go. Weeks pass, but Dante can't forget the taste of sweet Taffy.
When an ongoing investigation leads Dante to a little girl Tanyalee mentors in a community service program, their anonymous hotel hookup gets dragged into the bright light of real life. Is there more to Tanyalee and Dante than a one-night stand? Has Tanyalee unwittingly put herself and the child in danger? Can Dante save them both?