In Stolen Kisses with her Boss by Susan Carlisle, Cynthia Markum has been working for Dr. Sean Donavon for a while as a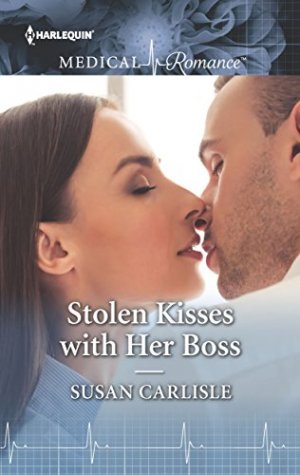 transcriber. All he's been is a voice, a very sexy voice, but the moment she meets him in person she's even more intrigued. However, she has too many responsibilities with being guardian to her two brothers to ever give happy ever after a chance. Will Sean be able to convince Cynthia to take a chance on him, or will she let go the one man that can make her completely happy?
"I didn't mean to imply that you couldn't."
He gave her his best hurt look. "I think that's exactly what you intended to do."
"I did not!" Cynthia looked indignant.
"You were making fun of me for not having fun." He laughed when she stuck out her tongue. "That's the best you have for a comeback? Second-grade gestures? I'll always win our arguments if you can't do any better than that."
Although this story started off a bit slow and it took a little while for the hero and heroine to meet, I found this book to be a good read from beginning to end, even though there were moments where I didn't think the heroine was being fair to the hero, considering it was palpable how much Cynthia was falling for him. The way this story started had me imagining what the hero was like, as from the heroine's point-of-view the doctor has a seriously sexy voice that she could not get enough of. Would he live up to her expectations? Would he be as sexy as his voice? However, the heroine also earnt my sympathy, as raising her brothers has put a lot of pressure on her shoulders. Can she be everything they need her to be? Will she ever find a relationship with a man that will accept that she has her two brothers to care for?
As for the dialogue, there was so much to like about it. It was riveting and had me reading the pages quickly, determined to discover whether Sean would be able to win Cynthia over. She deserves to be happy, and yet, it's palpable she's not going to be when she's too concerned about her brothers, whether she's doing a good job of raising them and wondering whether her parents are proud of what she's done to take care of them. However, although I thought her sacrifice to raise her brothers was noble, I thought she was sacrificing a little too much, especially when it was clear her brothers were old enough to look out for themselves. Cynthia was their sister, not their mother. Furthermore, I also loved the teasing dialogue between the hero and heroine that shows she does know how to have fun and let her guard down.
"My voice? I didn't know you could tell what kind of car a person would buy by their voice. Is that a new medical discovery?" He started the car.
Cynthia looked at him. "No. More like dream therapy."
Sean gave that a thoughtful nod. This conversation was getting interesting. "Been dreaming about me, have you?"
She vigorously shook her head, her hair covering her face. "No, just my overactive imagination, which had put surgeon, good practice and bachelor into an equation and come out with hot red sports car. You can tell math is not my strongest subject."
Both the main characters were intriguing due to their back stories, as the hero isn't close with his family and he's determined not to lead the kind of life they have. It's why he's worked so hard to become a doctor and make sure he can take care of himself. I also liked how the heroine showed Sean that all work and no play is dull, especially the moment where he needs something important from her. While the heroine, she's strong and brave by doing everything in her power to support her brothers, even though it seems she's forever working. However, I felt sorry for her having to put her plans for her future on hold. It didn't seem fair and made her appear a little obsessive when it came to being her brother's guardian, but how else was she going to support her brothers if she didn't work as hard as she did?
Overall, Ms. Carlisle has delivered a good read in this book where the chemistry between this couple was strong, the romance delightful and the ending had me wondering whether the heroine would ever realize that Sean is good for her and everything he's argued about her brothers is right. The way this story ended had me pleased by the conversation the heroine finally had with some of the secondary characters, as she needed to realize that her life didn't have to be put on hold. However, it was the way Cynthia made things right with Sean that left me with a smile, because giving him a chance would mean a lifetime of happiness, which is something the heroine definitely deserved. I would recommend Stolen Kisses with her Boss by Susan Carlisle, if you enjoy medical romances, the friends to lovers trope or books by authors Alison Roberts, Meredith Webber, Lucy Ryder and Scarlet Wilson.

Book Info:

Publication: August 1st, 2017 | Harlequin Medical |
After hours…
To medical transcriber Cynthia Marcum, Dr Sean Donavon is just a voice — a deliciously sexy one! — in her earpiece…until he asks to meet in person. She's nervous and excited, but it's crazy to have feelings for a man she's never laid eyes on, right? Besides, he is her employer!
Stunning Cynthia couldn't be further from the woman Sean imagined her to be and their attraction is instantaneous. Neither is ready for a relationship, but from the moment their lips first meet there's just no going back…