In Stone Song (Cold Iron #3) by D.L. McDermott, Elada Brightsword is a Fae warrior who has been Fae sorcerer Miach MacCecht's right hand for millennia. With a bit of new found freedom, he had intended on finally asking musician Sorcha Kavanaugh out. Ever since he heard her angelic voice in the Black Rose bar, Elada has been drawn to her. But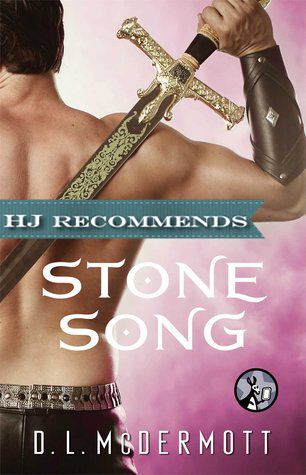 now, forces he and Miach are trying to keep at bay are threatening to use Sorcha's natural abilities as a Druid to bring evil Fae over from the Otherworld. It's up to Elada to find her before the Prince Consort does, and to keep her from harm. He hopes that maybe he might even find love in the process.
'And now, finally, he was free to commit himself to another being–if he could keep her alive long enough to convince her to accept him.'
Sorcha Kavanaugh has been warned against the Fae since she was taken in by her grandmother as a young girl. As she grew older she found that she had special musical abilities but was never permitted to use them for fear the Fae would find out and harm her. Sorcha's journey as an adult has been filled with music since she left her childhood home behind. But the more she has learned about the Fae, the more she knows they cannot be trusted. So when Elada seeks her out at the Black Rose and offers to keep her safe, Sorcha wants to believe the handsome man is being truthful. The fact that he knows she's part Druid is a red flag. But once they are thrown together working toward a common goal, she not only learns to trust him but falls for the warrior as well.
"Let me take you to Miach, before the Prince finds you and discovers your secret."

"What secret?" she asked. He couldn't possibly know.

"You have the voice. The singing voice. You're a stone singer, aren't you?"
Stone Song is the third book in D.L. McDermott's engaging Cold Iron series. This time around we get to know the enigmatic Elada better as well as his love interest, the beautiful and musical Sorcha.
I enjoyed this novel as much as I did Silver Skin (book two) and was happy to finally learn more about Elada. It was fun to see Miach's former right hand warrior–a Fae–fall deeply in love with Sorcha–a Druid–who should, by all accounts, be his mortal enemy. They were well suited for each other, I thought, and had very nice chemistry, which you'll see in the scene where Sorcha drinks Fae wine. Yowza! I also thought her stone song ability was very interesting once we started learning about how it can be used. As well as how leery it made Elada and the rest of the Fae around her, unsure of how it would affect them. My only gripe? I want more of their story! 😉 Hopefully there will be more to come in this series…
If you enjoy both paranormal romance and urban fantasy, I think Stone Song will be a great fit. Filled with Fae, Druids, and humans caught in the middle of a centuries old war, there is something for everyone here.
Book Info:

Published June 9th 2014 by Pocket Star
Sorcha Kavanaugh never believed Gran's stories about the Fair Folk, until one of the creatures walked into a bar where she was singing and stole a year of her life. So when Elada Brightsword, the right hand of South Boston's renegade Fae patriarch, interrupts her set at the Black Rose, Sorcha knows trouble has found her . . . again.
The Fae warrior has admired Sorcha Kavanaugh from afar for months, but he's aware of her unhappy history with the Fae, and has been waiting for the right time to approach her. Unfortunately for Elada, time has just run out. An old enemy, the malign Prince Consort, has identified Sorcha as a Druid descendent with the potential to become a stone singer, a bard with a voice that can shatter the strongest magical constructs.
Now, if she wants to survive, Sorcha must learn to trust one of the creatures she fears most.