Stormy Knight by J.D. Mason: Fighting on two different sides of a development project, Omar and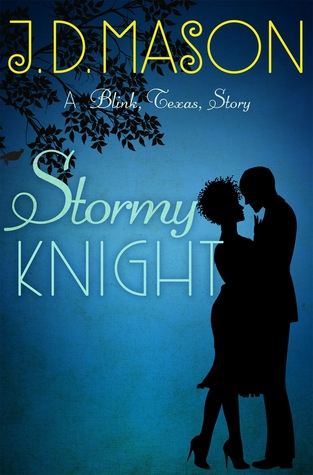 Lola should not at all enter a romantic relationship. Not when Lola is fighting as hard as she can to keep a hold on her shopping center and Omar, along with the town, wants her to sell the land to a company.
But Omar doesn't want to resist Lola any longer. Instead, he sets out to woo her, confident he can keep the project from getting between them. But as tensions ramp up, Lola doesn't seem to be able to trust Omar's motives.
"Let me buy you a drink."
"You need to let that go."
She had to admit, he was handsome, in that conservative, strong, grown man kind of way. Handsome, and so not her type.
"I can't," he said simply. "I've tried and I can't."
I really liked Stormy Knight. I wish more emphasis was on Lola and Omar's relationship rather than the property conflict and intrigue connected, but even so I couldn't put the story down out of curiosity.
Omar was a total sweetie, and even though he and Lola were opposites I loved them together. Lola had good character growth, and Omar proved to be more badass than I expected at the end. I just really really wish I could have seen them be together more. The scenes I got were not enough to satisfy me even as I loved those moments of this couple falling in love.
Not the only Blink, Texas novel, Stormy Knight can be read as a standalone. But after this short and sweet story, I'm sure you'll want to check out Mason's others. She's got a great voice that kept me drawn in.

Book Info:

Publication: March 1, 2016 | St. Martin's Griffin | A Blink, Texas story
Omar Reid is about to make the biggest leap in his career. As the City Planner for the town of Blink, Texas, he is spearheading the building of a megastore in place of an old strip mall will have the cash flowing like water downhill. There's just one problem-Lola Knight won't have it. A fiery woman with big dreams, she's worked hard to own her own business and pursue her dreams, and without her piece of the property, the megastore goes nowhere. As their heated arguments lead to steamy encounters, Omar and Lola both know that, despite being opposites, their attraction is off the charts. But some key players aren't willing to to see the deal fall apart, and will stop at nothing to keep the wheels in motion, leaving Omar and Lola to fight for what's right and fight for each other.