Stranded with the Secret Billionaire by Marion Lennox: Sometimes please everyone just lands in heartbreak and hurt. Sometimes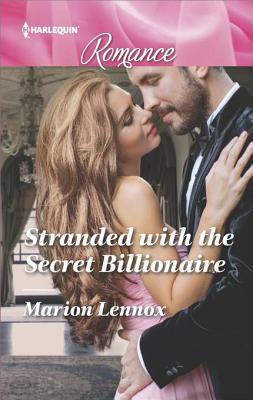 though you need to hit that low to figure out what you want and how to make that happen.
Penelope, Penny, Hindmarsh – Firth discovered that. She had finally decided that it wasn't possible to please everyone, especially her father. She couldn't stand by any longer though and make it happen. Her fiancé choosing her half sister over her and then having her mother NOT say anything? Well that was it, she was done. Off to the wild she was going.
Matt Fraser was done with loving, with trusting, heck with relying on anyone other than him. After all the only thing that it had gotten him was heartache and misery. He was done, he just wanted to work hard and be with the land. Everything else he would just deal with.
Fate has a funny way of bringing people together when they need to be though and thanks to a pretty little pink sports car and a flooding river Penny and Matt are now trapped together for a while. They both have some major issues to get over though, can they do that? Or will this just drive them both deeper in the paths they are forging?
Ms. Lennox has given her readers another great romance. Her writing style showcases her love story and romance while not leaving out the real deal things. The characters are very really and feel like they could just come out of the page. The settings are described so well there is a point you might just feel claustrophobic before wanting to be immersed in the beauty described. There are a few minor cases where the plot gets lost, but overall this is a very sweet HEA with a good ending that will make your heart smile while sighing and saying goodbye to these two.

Book Info:

Publication: April 1st 2017 | Harlequin Romance |
Rescued by a brooding stranger…
Jilted heiress Penny Hindmarsh-Firth sets her broken heart on escaping high-society city life. Instead, she's trapped by floods in the Outback and a handsome stranger on horseback comes to her rescue!
After a betrayal shattered his life, Matt Fraser withdrew from the world–but he can't deny Penny a refuge. The secret billionaire is reluctantly intrigued as the society princess starts proving there's more to her than meets the eye…