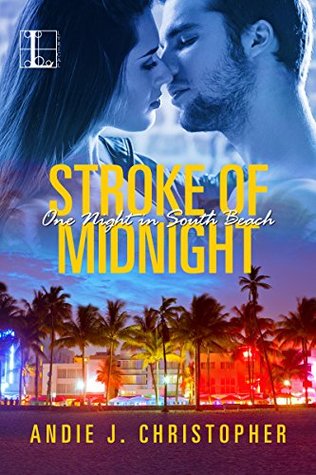 Stroke of Midnight (One Night in South Beach #1) by Andie J. Christopher is an amazingly HOT story that is sure too ring in the New Year in just the right way. Knowing that this is the first book in a new series, I can tell you that this is one series that I will be looking forward to reading more of. This is the story of Cole and Alana
Alana Hernandez is the shy, quiet, people pleasing person. She is a work-a-holic, she is use to picking up and cleaning up after everyones mess, but she is not respected by her family because she is a woman and her father is of the mind set that she needs to get married and have babies, not work in the corporate world. When her little sister insists that she come out on New Years Eve, she never expected her life to change when she hooks up with a handsome stranger in a bar.
Cole Roberts is in Miami to visit his best friend, but when he is left high and dry, he decides to explore the city on New Years Eve. But when he lays eyes on a beautiful stranger in the bar, the only thing he can think of is taking her to bed. But when he wakes in the morning, beautiful is gone.
Surprise, surprise when Cole finds out that Alana is his best friends sister, and Alana is shocked to find out that Cole is her brothers buddy. Knowing that they need to keep their relationship quiet, with an week of HOT sex and getting to know each other, they confide things to each other that they never had the courage to voice. But when Alana's brother finds out, and a misunderstanding threaten to tear these two apart, Cole will need to prove to Alana in more than words that he is all in before he loses her for good.
I felt so bad for Cole and Alana. They were perfect for each other, but each have been hurt in their own ways, Cole, but a broken engagement to a woman who did not think he was good enough, and Alana but her family that thinks she is not smart enough, does not give her credit. Cole has to get past the fact that he thinks that Alana can do better than him, and Alana needs to trust that Cole will never hold her back.
This story is an amazing HEA for two very perfect souls who find that Love in the Miami heat might just be what the doctor ordered.
Book Info:

 Expected publication: January 10th 2017 | Lyrical Shine | One Night in South Beach #1
One night.
New Year's Eve in Miami. Even workaholic Alana Hernandez can't resist the call of the city, especially if it will get her little sister off her back. But a night of celebrating turns into a night of mischief when an alluring stranger catches her eye across the dance floor.
No names.
Former Navy Seal Cole Roberts isn't looking for anything more than a good time in Miami. Since leaving the military and being betrayed by his former fiancée, he's not interested in unnecessary complications. But the moment he sets eyes on the sultry beauty, Cole knows this night will be far from ordinary.
No going back .
Neither Cole nor Alana are looking for a relationship, so they strike a deal: One night. No names. No repeats. But things get complicated when their night of passion becomes something neither can walk away from.