Suddenly in Love by Julia London: Mia is at a crossroads. She's always marched to the beat of her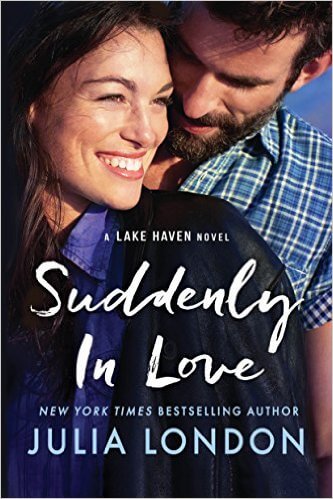 own drummer and had an artistic flair that has marked her as different, especially in the small coastal town where she grew up. She's unfortunately returned after having no success as a painter in New York City. Brennan is also at a crossroads. He's the lead singer of a popular band but he can't take the crazy touring schedule. He's questioning the direction of the band's music and also reeling from the death of his best friend and bandmate.
Mia isn't thrilled to be home again and working for her aunt's interior design business. She plans to work on her painting and avoid everyone she knew from high school. Her job gets more interesting when the arrogant idiot who almost ran her over turns out to be the son of a much needed client. Needless to say, Mia and Brennan don't get off on the best foot.
"At least give me an A for effort here," he said. "I'm trying to have a conversation. I'm not drunk. And I don't think I smell."
Something fluttered in a dusty little corner of Mia's heart. "You actually smell pretty good," she grudgingly admitted.
"Progress, baby. I'm working on the rude."
Mia is a breath of fresh air. She seems to be the only person who has no clue who Brennan is or what he does. She also calls it like she sees it. She provides him with a much needed wake-up call and inspires him to write songs again. They bond over their artistic natures and need to create while questioning their talent and their paths forward. They connect on a deeper level and have great chemistry. Brennan's enjoyed hiding out, but it's only a matter of time until the demands of his life and career test their growing relationship.
One of her brows rose with surprise. "Are you begging?"
"Apparently," he admitted.
"Okay," she said. "Since you're begging, I'll come to that."
"Thanks," Brennan said grudgingly.
"But only as a favor to you. Which means you owe me. Again." She smiled pertly at him.
Suddenly in Love is an entertaining small town romance. Julia London created colorful characters who have to fight to find a path that fits them. Ms. London wrote great dialogue in this enemies to lovers story. Fans of L.A. Fiore and Erika Kelly will enjoy Suddenly in Love.
Book Info:

Publication: April 5th 2016 | Montlake Romance | Lake Haven #1
Mia Lassiter is thrilled to finally put her artistic skills to use working for her aunt's interior design shop in her hometown of East Beach. While renovating an old mansion overlooking stunning Lake Haven, she encounters a scruffy but attractive man named Brennan—the owner's son. She doesn't realize this sexy recluse is actually Everett Alden, the world-famous rock star in hiding who's nursing his own artistic and personal crises.
As their personalities clash, tension simmers between the struggling artist and jaded musician, and their time spent alone together in the gorgeous old house only serves to turn up the heat. Soon, Mia and Brennan's creative passions boil over to inspire passions of another kind…
But reality comes crashing in when Mia's celeb-obsessed cousin discovers Brennan's true identity—and reveals it to the world. As paparazzi swarm the mansion, Brennan is thrust back into his rock star lifestyle. Will Mia lose her soul mate just when she's finally found him? Can their love survive the glaring spotlight?