Suffer Love by Ashley Herring Blake: At a new school, Sam spots Hadley and the connection is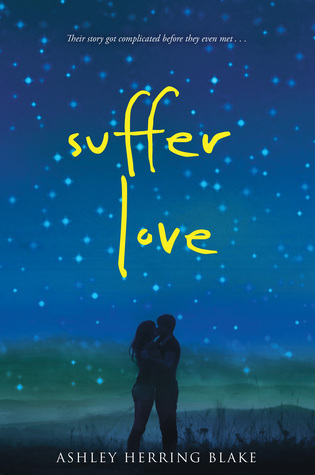 instantaneous. But it's both a curse and a blessing when they're assigned to a project together because Sam can't help his attraction, but he has to hold onto an ugly secret between their families if he wants a chance with her.
Hadley's dad cheated on her mom a year ago and nothing has been the same since. Her home is no longer home and she doesn't know where she belongs. But then she meets Sam. He's hot and cold, but the attraction is strong and she can't keep her mind off him.
As they finally give in to the sparks, the truth looms closer and closer, and the rift it tears between them might never be fixed.
Under the table, I bat his knee with mine and he laughs. Our eyes lock and his laughter fades into something softer. His eyes sweep over my face, exploring like fingers.
I loved Suffer Love with its real, believable, and heartbreaking teen angst and an absolutely wonderful romance. The main focus definitely felt like it was on the family aspect, but it was an emotional journey I gladly took.
Sam is protective, the best older brother one can ask for, and, despite his hot and cold attitude in the beginning, always there for Hadley when she needs him. And Hadley, angry and lost, Sam becomes her safe place. I loved seeing this lost girl find her way. And I adored their slow-going, sweet and deep romance.
For any Young Adult fan I highly recommend Suffer Love. With a great cast of characters, all finding their way in some fashion, it takes you on a trip you don't want to leave.
Book Info:

Publication: May 3, 2016 | HMH Books for Young Readers |
"Just let it go."
That's what everyone keeps telling Hadley St. Clair after she learns that her father cheated on her mother. But Hadley doesn't want to let it go. She wants to be angry and she wants everyone in her life—her dad most of all—to leave her alone.
Sam Bennett and his family have had their share of drama too. Still reeling from a move to a new town and his parents' recent divorce, Sam is hoping that he can coast through senior year and then move on to hassle-free, parent-free life in college. He isn't looking for a relationship…that is, until he sees Hadley for the first time.
Hadley and Sam's connection is undeniable, but Sam has a secret that could ruin everything. Should he follow his heart or tell the truth?