Sunset at Seaside by Addison Cole: Jessica has lived her life for her cello as she was taught to and pushed by her mom. But to know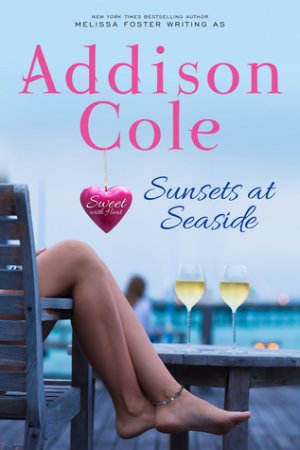 whether she's choosing the right future with her symphony, Jessica takes the summer off, choosing to spend a few months renting a house in Seaside.
Inventor of the Google-like website, OneClick, Jamie always has to be wary of those entering his life. Immediately on meeting Jess, he knows he wants her, but as his past has taught him, he has to be careful that she's the real deal.
Jess has never been in a relationship and Jamie has a hard time trusting. With the help of the Seaside community, Jess and Jamie will have to figure out if they can put their fears aside and fall into love.
Sunsets at Seaside is definitely one of my favorites from this series. Jess had a very cute innocence going on, and I really do feel she and Jamie made a good couple. Jamie, in all his hesitance, needed that sort of sweet in his life. And, of course, I have to love the total opposites in technology thing. Jamie the king of it, and Jess not even knowing about phone apps.
But even in all her sweet innocence, Jess has a backbone, one which I highly appreciated. In fact, I think both she and Jamie could have used a flaw or so, just to add a little more depth to their characters.
I wouldn't call this the most exciting romance, but it lives up to its Sweet with Heat name. The couple had a good amount of heat, so for those who prefer a closed door romance with all the passion I would recommend this romance.
Book Info:
Publication: August 23. 2017 | World Literary Press | Sweet with Heat: Seaside Summers #4
​Jessica Ayers has lived a sheltered life with little more than cello lessons and practices taking up her day. Now a member of the Boston Symphony Orchestra, she escapes the prim and proper symphony to vacation in the Seaside community in Wellfleet, Massachusetts, to determine if she is living life to the fullest or missing it altogether.
For the first time since developing the second largest search engine in the world, billionaire Jamie Reed is taking the summer off. He plans to work from the Cape and spend time with his elderly grandmother—and falling in love is not in his plans.
From the moment Jamie and Jessica meet, the attraction is white-hot. Once-overly-focused Jamie can think of little else than sweet, smart, and alluring Jessica, and Jessica discovers a side of herself she never knew existed. But when Jamie's business encounters trouble and his attorney and best friend intervenes, he proves that the brown-haired beauty is too distracting for Jamie. To make matters worse, it appears that Jessica might not be who she says she is, turning Jamie's life—and his heart—upside down. In a world where personal information is always one click away, Jamie must decide if he should trust his heart or watch the woman he loves walk away.