Surrender by Lisa Renee Jones ends the series in an explosive way. The story is filled with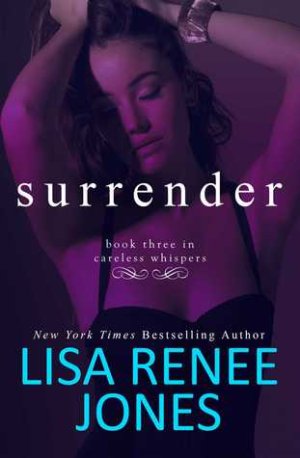 non-stop action as secrets come to light. Readers finally get the conclusion to Ella's story as Ella gets the missing pieces to her life back. You do need to read the first two books in the series, otherwise you will be lost.
The passion between Ella and Kayden still burns as hot as the sun but now it's grown much more powerful and nothing will stand between them. Ella and Kayden will do anything for each other and it's proven throughout out this book. The author throws in some serious twists in this book that would make anyone question their relationship but for Kayden, nothing will keep him from Ella.
"We are not enemies," Kayden declares, tearing his mouth from mine, repeating the words he'd spoken before the kiss as if he's tasted the doubt on my lips, as if he's willing me to let it go, when I have tasted it on his as well. But I have never wanted to surrender to anyone else's will—or to anyone—more than I do to his and him, right now."
Ella and Kayden have a battle on their hands but this author reunites our characters with some old friends that will have a major impact on their story. One thing remains true throughout the whole journey and that's the romance between Ella and Kayden. Even though Surrender is fast-paced and full of suspense, the romance is heavy and so well done. Readers will swoon, sigh, and gasp as they live Ella's and Kayden's life through the pages.
If you've read the previous books, you must make time to read Surrender and if you haven't started the series, what are you waiting for? Surrender is thrilling, engaging, and will keep you on your toes. A must-read for romantic suspense readers!

Book Info:

Publication: January 9th 2017 | Pocket Star | Careless Whispers #3
Chris and Sara from Inside Out return in the explosive finale to Ella's story from New York Times bestselling author Lisa Renee Jones with the third book in the sexy, suspenseful Careless Whispers series.
Passion burns fiercely hot between Ella Ferguson and Kayden Wilkens, the man who held secrets and lies in his hands, and then allowed them to fall into hers. But even though he has become her anchor—helping her recover from amnesia after finding her unconscious in an alley, and allowing her into his secret world—all is not what it seems. Kayden still has secrets, and pieces of Ella's past are still shrouded in the darkness of her mind, while the powerful man who hunts her will not stop until she is his. In this final, explosive novel in the Careless Whispers series, Ella discovers that while her life with Kayden didn't begin in that dark alley…it could easily end there.