In Swan Point (The Sweet Magnolias #11) by Sherryl Woods, Adelia Hernandez has moved on since her bitter divorce from her cheating husband and wants to prove she can stand on her own two feet. Her children come first so she has no time to socialize or date. Plus, her job in town keeps her busy the rest of the time anyway. When she feels the stirrings of attraction for hunky Gabe Franklin, she passes her reaction off as just being a single woman again. Pretty soon, though, she realizes her hammering heart is telling her not only does she want to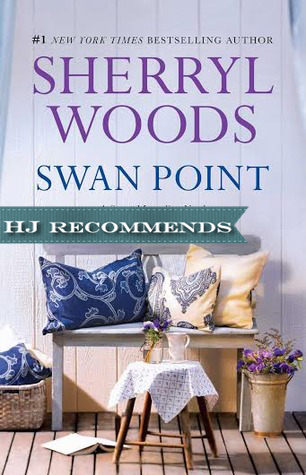 know more about Gabe, but she has the potential of getting hurt by him. If it were just herself, she wouldn't be so concerned. But with her children in the mix, she's torn with letting Gabe into their lives or turning him away.
"…Forget all the potential complications that may or may not happen. What do you really want?"
She thought of the kisses they'd shared, the way Gabe made her feel, as if she were incredibly special. "You," she said, her voice barely above a whisper. She dared to meet his gaze. "I want you."
Growing up in Serenity, South Carolina, was not easy for Gabe Franklin. His mother's reputation made him the black sheep of the family so his first inclination was to fight the bullies first and ask questions later. Thankfully, over the years Gabe has learned better ways to cope with life's ups-and-downs, so now he's back in his hometown to help out his cousin Mitch. While a relationship is the farthest thing from his mind, he can think of nothing else when he meets Adelia. Gabe doesn't do long-term anything, usually choosing to move on when things get serious. Adelia and her four wonderful children, however, may be just what he needs to stay put for a change.
'If he did decide to see where things might go with Adelia, he needed to remember that there were a lot of other people who'd be affected by their actions. Was that a risk he was willing to take,?'
Swan Point is the latest sweet and lovely romance in the long running Sweet Magnolias series by Sherryl Woods. Get ready for gossipy townspeople, new found passion, and lots of family drama.
I love the way Sherryl Woods has created such strong female characters for this series. The Sweet Magnolias are a force to be reckoned with if you cross them, but they are also the first to offer a lending hand when anyone in town needs help. I was seriously impressed as well with how realistic the gossip and tension felt in Serenity. That small town vibe where everyone knows everything about everyone was prevalent here, showing how it can be both a blessing and a curse. Such was certainly the case for Adelia and Gabe as they fell in love.
Family, of course, played a huge role in Gabe and Adelia's story. It was interesting reading about the strict traditions Adelia's mother lived by and pushed her family to adhere to as well. Adelia handled the animosity from her siblings very well after her divorce. She was definitely a strong role model for her kids which was wonderful to see. I could empathize easily with both Adelia's struggles and with Gabe trying to make amends for his troubled upbringing. I thought they were very relatable characters who I genuinely wanted to see achieve their HEA. And boy did they ever! *sigh*
Whether or not you've read about the Sweet Magnolias before, I think you'll enjoy getting to know Gabe and Adelia in this clean romance full of emotion.
Book Info:

Published July 29th 2014 by Harlequin MIRA | (The Sweet Magnolias #11)
#1 New York Times bestselling author Sherryl Woods draws readers back into the world of strong friendships and heartfelt emotions in Serenity, South Carolina
Determined to build a new life for her family after her divorce, Adelia Hernandez has bought a home in the historic Swan Point neighborhood of Serenity. Promoted to manager of Main Street's most fashionable boutique, she feels revitalized and ready for a fresh start as a single mom. But barely into this new independent phase, she crosses paths with the sexiest man to hit Serenity in years.
Gabe Franklin, back in town to make amends for past mistakes, has no intention of settling down, but Adelia's proving irresistible. Cheered on by their friends, "the Sweet Magnolias," Gabe is bringing long-absent passion and laughter into Adelia's life. To his surprise—and hers—sometimes a rolling stone is just what it takes to build the rock-solid foundation of a family.
"Woods' readers will eagerly anticipate her trademark small-town setting, loyal friendships, and honorable mentors as they meet new characters and reconnect with familiar ones in this heartwarming tale." —Booklist on Home in Carolina