Sweet Rivalry by K. Bromberg is such a treat. (Yes, that pun is intended.) It's a quick and dirty read that has plenty of laughs, heartfelt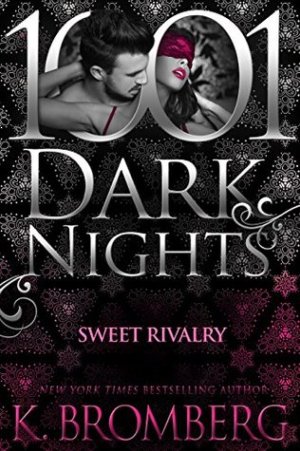 moments and sexy times packed into its 120 pages.
Ryder Rodgers and Harper Denton were fierce competitors while getting their masters degrees in business school. They were constantly fighting to be the first in their class and win the next debate, but all of their angst was fueled by an intense, unexplored sexual chemistry. They parted ways on less-than-positive terms after graduation and have not seen each other in thirteen years.
Suddenly Ryder and Harper find themselves together again and competing for a highly coveted job. They immediately resume their fighting positions and get ready to go toe-to-toe against each other when they realize the attraction has grown between them in the years apart. They need to clear some things from their past in order to explore any kind of future while also trying to land the same job. It is a complicated situation, and it looks like it is about to get a lot more complicated.
Sweet Rivalry is fun from beginning to end, and I was sad when it was over. Ryder and Harper are hilarious, and I love their fierce rivalry. Ms. Bromberg delivers a strong heroine who can hold her own against an equally strong hero, who also happens to be incredibly sexy… if you were curious. Sweet Rivalry is a wonderful enemies-to-lovers story that is perfectly entertaining.

Book Info:

Publication: 2/28/17 | Evil Eye Concepts | 1001 Dark Nights
He was going to stride into the conference room, do the required song and dance over the next five days, and win the biggest contract of his career. But when he walked in and heard the voice of one of his competitors, all his plans were shot to hell.
Harper Denton. She was always on top. In college. First in their class. Always using every advantage to edge him out to win the coveted positions. The only one who could beat him. His academic rival. More like a constant thorn in his side. And his ego's.
When he heard her voice, he was brought back to years before. To the bitter taste of being second best. But the woman who meets his gaze is nothing like the drab wallflower he used to know. Hell no. She was all woman now: curves, confidence, and staggering sex appeal. And no doubt, still brilliant.
The fact that she's gorgeous and bright won't distract him. This time, Ryder's determined to be the one on top. But not if Harper can help it.