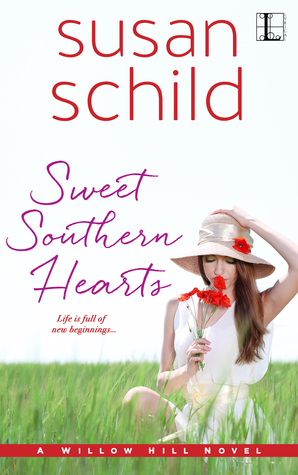 Sweet Southern Hearts (Willow Hill) by Susan Schild  is the third book in the Willow Hill series. Again, we meet up with Linny and her crazy friends and family. This amazing story take place 1 week after book 2 ends, with Linny and Jack happily married…..or are they?
Linny and Jack are on their honeymoon and everything seems to be going great, they whitewater raft, they have a beautiful cabin overlooking the mountains and they have this time to themselves, until…..yep, Vera rears her ugly head and topples their happiness. Seems like Jack's ex and her husband and Jack's ex bestie are fighting all the time. This is upsetting to their son Neal and Jack needs to get home and take Neal out of the line of fire. Linny being the supportive wife and step mother, agrees at once, even though she is a bit bitter at cutting their time short.
When Jack is talked into taking Neal on a camping trip, without Linny's knowledge, she is hurt, but decides to join her mother and friends on the first week of their RV adventure, just to get her mother settled and ease her fears. Talk about a trip of a lifetime. Linny learns that it is okay to be selfish sometimes, learns that it is okay to voice her opinions and stand her ground.
When Vera keeps poking her nose in Linny and Jack's marriage, keeps running to Jack to cry on his shoulder, Linny does everything in her power to make Jack see that it needs to stop. While her mother is on her trip, Linny once again does what she does best, she takes on more than she can handle. She helps her injured sister take care of her new baby, she tries to drum up more clients for her business, she tries to take care of and make more time for her often surly step son, and then throw on top of the heap, a 6 month old baby appears on their doorstep, abandon, and Linny is at her breaking point.
With the help of her mother, Jack, her sister and her friends, Linny realizes what is most important in life, family, not work. Time with loved ones, not time spent writing proposals. Oh, and to make the story just that much more interesting, Linny finds out a very shocking secret that adds more fun to the mix.
Again as with the other books in this series, everything is from Linny's POV. Her thoughts, feelings and interpretation of events. That in some ways makes the story funnier, especially where her mother and those friends are concerned. I fell in love with Linny and her querky ways. I fell in love with the characters and found myself wanting to pull up a chair and watch everything unfold from the front porch. An amazing addition to this wonderful series. I would suggest that you start with book 1 in the series to get the full affect of Linny,

Book Info:

 Expected publication: January 10th 2017 | Lyrical Press | Willow Hill
Susan Schild welcomes you back to the offbeat Southern town of Willow Hill, North Carolina, for a humorous, heartwarming story of new beginnings, do-overs, and self-discovery…
When it comes to marriage, third time's the charm for Linny Taylor. She's thrilled to be on her honeymoon with Jack Avery, Willow Hill's handsome veterinarian. But just like the hair-raising white water rafting trip Jack persuades her to take, newlywed life has plenty of dips and bumps.
Jack's twelve-year-old son is resisting all Linny's efforts to be the perfect stepmother, while her own mother, Dottie, begs her to tag along on the first week of a free-wheeling RV adventure. Who knew women "of a certain age" could drum up so much trouble? No sooner is Linny sighing with relief at being back home than she's helping her frazzled sister with a new baby…and dealing with an unexpected legacy from her late ex. Life is fuller—and richer—than she ever imagined, but if there's one thing Linny's learned by now, it's that there's always room for another sweet surprise…