In Sweet Tea (Southern Eclectic #1) and Sympathy by Molly Harper, Event planner Margot Cary thought she had her future all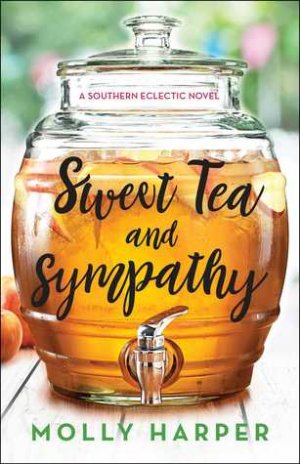 mapped out. And her latest high profile event in Chicago was supposed to boost her to the top rung of her career. But a catastrophe involving shellfish and live birds–FYI: *not* a good mix–pushes Margot right off that career ladder and has her wearily making her way to Lake Sackett, Georgia to accept a job offer from her Aunt Tootie. Visiting her father and his side of the family for the first time since she was a toddler is a bit overwhelming. And Margot is kind of appalled that their local business is the McCready Family Funeral Home and Bait Shop. Okay, so the businesses aren't in the same building, but still. What kind of marketing genius came up with that plan?
'This was so much more than polite, no-strings frottage with a reasonably qualified partner, sought out when she needed to scratch an itch. This was raw, throbbing need and the heady fog of bad decisions.'
New to town, Margot is the ultimate outsider, with people both curious to meet her and put her down in the polite way only a Southerner can manage. Then she meets Kyle Archer, a man who seems to be waging an internal war over his emotions one moment and then kissing her the next. Margot isn't looking for a relationship but she's more than okay with passing her time in Lake Sackett with the handsome, bearded school principal. Only, it gets complicated, as all small town flings do. And she finds that not only is she trying to fix her career, create bonds with her unfamiliar family, and avoid public scrutiny, but Margot's also falling for Kyle when everything inside her is screaming to not get too involved. Even though it looks like it might already be too late.
"You know, when you look at somebody and you just spark with 'em. Every time ya see 'em, you get flustered. Every conversation leaves ya all breathless and stupid. Your skin feels too tight and your chest aches."
"I think that what you're describing is a heart attack," Margot told her.
Just as I would expect from Molly Harper, Sweet Tea and Sympathy was a small town romance with tons of heart, lots of laughs, and of course kooky locals. And it mainly focused on the ups and downs of relationships–both familial and romantic.
"My point is that you don't back down when you're faced with something scary. So why would you back down when you're faced with something that could make you happy?"
Margot's nose scrunched up and she buried her face in her hands. "I wish that didn't sound so profound."
I know this is only the first full-length book in Harper's Southern Eclectic series but I'm already getting a huge kick out of the McCready family. From the glimpses we had in the novella that started this all, Save a Truck, Ride a Redneck, it was easy to see that along with the humor and snarkiness that I adore in her writing, this family was filled with people who had huge hearts. And that made for some touching moments in between the bouts of laughter. But I mean, how can you not giggle when their business is the McCready Family Funeral Home and Bait Shop? Right? (lol)
Our hero and heroine had definitely been knocked around by life before meeting and they were both sort of licking their wounds, trying to move forward in their own way. For Margot it was the flamingo incident that ended her career in Chicago and sent her to Lake Sackett that had her rethinking her future. For Kyle, well, I won't give his past away but we'll just say that he was consumed with grief and hadn't had much of a chance to work through it.
I think Kyle and Margot saw in each other two people who were considered outsiders in town and who were getting over some tough situations. So it drew them together. Well, that and their incredible chemistry which was going to get them into trouble if they weren't careful. The dialogue between Margot and Kyle was fun, lively, and seemed pretty down to earth to me. I thought they were great together. Lake Sackett didn't stand a chance against the two of them as a team, tackling local issues as they were both smart as a whip. Loved it!
Sweet Tea and Sympathy kicked off Molly Harper's newest series in the best of ways. Some cute & comical moments, some steamy attraction, and lots of down home charm had me smiling the whole way through this entertaining book.

Book Info:

Publication: November 21st 2017 | Gallery Books | Southern Eclectic #1
Beloved author Molly Harper launches a brand-new contemporary romance series, Southern Eclectic, with this story of a big-city party planner who finds true love in a small Georgia town.
Nestled on the shore of Lake Sackett, Georgia is the McCready Family Funeral Home and Bait Shop. (What, you have a problem with one-stop shopping?) Two McCready brothers started two separate businesses in the same building back in 1928, and now it's become one big family affair. And true to form in small Southern towns, family business becomes everybody's business.
Margot Cary has spent her life immersed in everything Lake Sackett is not. As an elite event planner, Margot's rubbed elbows with the cream of Chicago society, and made elegance and glamour her business. She's riding high until one event goes tragically, spectacularly wrong. Now she's blackballed by the gala set and in dire need of a fresh start—and apparently the McCreadys are in need of an event planner with a tarnished reputation.
As Margot finds her footing in a town where everybody knows not only your name, but what you had for dinner last Saturday night and what you'll wear to church on Sunday morning, she grudgingly has to admit that there are some things Lake Sackett does better than Chicago—including the dating prospects. Elementary school principal Kyle Archer is a fellow fish-out-of-water who volunteers to show Margot the picture-postcard side of Southern living. The two of them hit it off, but not everybody is happy to see an outsider snapping up one of the town's most eligible gentleman. Will Margot reel in her handsome fish, or will she have to release her latest catch?