In Swipe for Mr. Right by Nicole Flockton, Caryn Stapleton never thought she'd ever try internet dating, but with her recent break-up,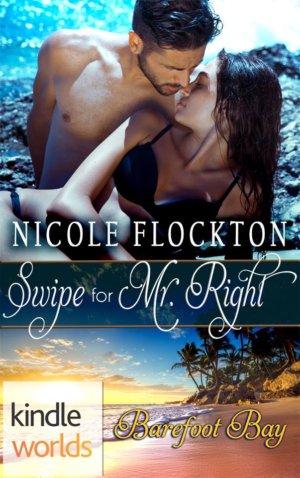 she decided to give it a go. Meeting a really great guy online; a guy she totally connects with, she's decided to brave meeting him in person. But what happens when the man she's getting to know turns out to be someone else? Will she be able to forgive him for lying, or will their shot at happy ever after slip away?
"Just one more spoonful. You know you want to." Caryn eyed the sinfully decadent chocolate cake she and Tom had shared.
"Ever seen Monty Python's Meaning of Life?" He nodded. "Remember that restaurant scene? Well, I'm this" – she held up her thumb and index finger, a miniscule gap of light penetrating the digits – "close to turning this picnic from fun to disastrous."
I always look forward to when Ms. Flockton releases a new book, because she's an author that once I start reading one of her stories, I find the book impossible to put down. But with this story being part of Roxanne St. Claire's Barefoot Bay Kindle World, I found I was getting the best of both worlds — the fabulous writing of Ms. Flockton and the wonderful location of Barefoot Bay. The way this story started with Caryn had me reading the pages quickly, determined to discover whether she would go to meet her online man at Barefoot Bay or not. However, it was the moment that Caryn and Tom met where things really got interesting. Would Tom take a chance on getting to know the heroine better? How long would he continue to deceive her?
The dialogue was well-written and I loved every moment the hero and heroine conversed. I felt sorry for the heroine when she tells Tom about what happened to end her last relationship. How could her brother do such a thing? Yet, in saying that, Caryn is strong and brave for the decision to go to Barefoot Bay and meet someone she met over the internet, considering she has every reason to be wary. What if the man she's meeting turns out to be totally different to what he's like online? Also, I liked her determination to go after what she wanted once she committed to something, whether it be business or personal. Certainly, if she takes enough chances in her personal life that she'll come out on top eventually.
"Feel better?" Tom murmured.
"Yes and no. I'm glad I told you, but in some respects I wish I hadn't."
"Why?"
Oh God, now she'd done it. How did she say, "Well, telling you killed the mood and I really wanted to sleep with you."
"All you have to do is ask."=
Shit. It didn't take being a rocket scientist to know her face was as bright red as the label on a Coke bottle. What could she do but woman up? "I said that out loud, didn't I?"
While Tom, I loved him. He's hard-working, confident, and I felt sorry for him when it comes to the dilemma he faces with Caryn in knowing how she feels about people deceiving her after learning about her past relationship. Will he get the chance to tell her who he really is before she discovers the truth from someone else? Will he learn who the person is that made Caryn believe he was the man on the internet dating site?
Overall, Ms. Flockton has penned another really good read in this book encompassing the mistaken identity trope, nicely-detailed sex scenes that illustrate this couple's intense chemistry perfectly and an ending that had me cheering for this couple's happy ever after. Would Tom be able to convince Caryn to give him a chance after learning the truth in such a way about who he really is? She doesn't have the best track record when it comes to men, so I could understand why she'd be wary. Yet, in saying that, I loved the words they say to each other in the end. It proves that one man's loss is another man's gain, because clearly Tom Carrington was Caryn's Mr. Right. I would recommend Swipe for Mr. Right by Nicole Flockton, if you've read Roxanne St. Claire's Barefoot Bay series; looking for a quick read that will entertain from start to finish; or enjoy reading books containing the mistaken identity trope.
Book Info:

Publication: February 21st, 2017 | Barefoot Bay Kindle World |
Diving into the world of online dating isn't on the top of Caryn Stapleton's to-do list, especially after her recent break-up. But loneliness has her signing up, and when Mr. Swipe Right suggests they meet up at Casa Blanca Resort in Barefoot Bay, she takes one more risk and agrees. Even if the date is a bust, she'll at least get to spend time in a luxurious resort. When she sees her Mr. Swipe Right, all her previous disaster online dates are forgotten.
Sexy construction worker turned home improvement TV show host, Tom Carrington, is in Mimosa Keys to enjoy a well-earned break before filming the new season of his show. He likes the anonymity the resort gives him, so when a beautiful woman introduces herself and says they met on an online dating site, he's immediately on guard. As far as pick-up lines go this one is original. Instinct tells him he should brush her off, but desire has him playing along at being her date.