Take Me, Cowboy by Maisey Yates: It wasn't as if she wasn't a woman, but sometimes when you are struggling so hard to survive and to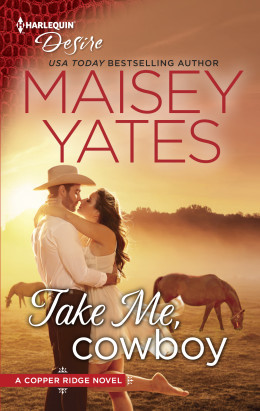 fit in it's easier to be "one of the guys" the problems only come when suddenly you need to be a woman.
Anna Brown knew it, but she didn't want her brothers (whom she loves dearly) to be the ones to point that out. She knew how to be a woman, really. However wasn't it important for someone to see under the front? To learn who she was and what it was she was about? Her best friend would help, he could get them to stop talking, win her the bet and then she could deal with the rest later.
Chase McCormack couldn't believe his ears. What on earth was he agreeing to? Maybe Anna had been drinking adult Kool-Aid while watching those old musicals; then again maybe he had too. Did he really just agree to give her the My Fair Lady treatment?
Rabbit holes are dangerous things, just like Pandora's box. Once you open them there is no going back. When Chase finally takes his friend blinders off will Anna ever be able to survive?
Wow! That's all I can really say about this novel from Ms. Yates. Don't wait a moment and go pick this one up. The characters you will fall in love with and watching them as they discover themselves and each other is magical. It's almost as if Ms. Yates has been something on the pages that draws the reader into these lives and makes them so real that you hate for the story to end. Stop reading the review and GO read the book.

Book Info:

Publication: Published April 1st 2016 | Harlequin Desire | Copper Ridge: Desire #1
This sexy rancher is her best friend…but can he be more? Only from USA TODAY bestselling author Maisey Yates!
She's just one of the boys, but with a new business in Copper Ridge, Anna Brown needs to change that. Her brothers bet she can't land a date for a fancy charity event. So Anna turns to her best friend—the hottest bachelor in town—for advice.
Rancher Chase McCormack wants in on that gala. If Anna takes him, he promises to turn her into a lady. But the makeover reveals what he's long suspected—Anna's irresistible! Is his best friend prepared to be taken—heart, body and soul—by her very own cowboy?