Take Me Home Tonight by Erika Kelly: Mimi loves her temporary job as the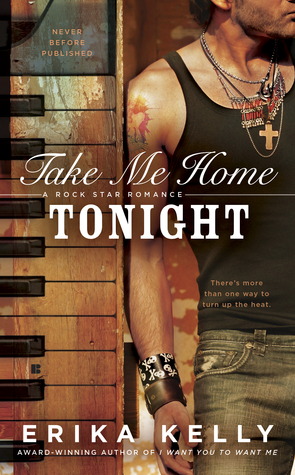 chef for the band, Blue Fire. She loves her friendships with Emmie and Violet and the guys in the band, but she keeps hoping that she'll get a job working with her dad. She's convinced that if she can land a spot and win the cooking competition on a TV show that her dad will be forced to give her the spot she's earned in his company instead of yet another hurdle to jump through.
Calix was born to create music. He's incredibly talented, but after a family tragedy his entire focus has been on keeping his family together. He loves being the keyboardist for Blue Fire, but he refuses to commit to a permanent place in the band.
They are attracted to each other, but they seemed content to feel the attraction without acting on it. But when Calix comes to Mimi's rescue, they begin to really get to know each other and for Mimi to meet Calix's family. When Mimi lands a spot on the cooking competition, Calix again agrees to help her out by giving her cooking lessons. Things get hot in the kitchen, but they want very different things.
Way too big a – "I'm a big deal." Her tone must've startled him, because he stopped abruptly. "And I'm not having sex with someone I haven't even gone on a date with."
She might as well have tossed fresh offal at him for the way his body recoiled. "I don't date."
Since they are spending so much time together, they can't continue to resist their chemistry. Mimi is different in that she so generously gives of herself and she really pushes Calix to see the past and his family in another light. Since Mimi brings him peace, Calix just may have to rethink his stance on dating.
"This isn't a good idea."
"It was your idea."
"Therefore, I have the power to kill it." She shrugged. "I'm killing it."
"You are not killing it. I told you mine, it's only fair you tell me yours."
Take Me Home Tonight is a fun, sexy, entertaining, and emotional story that I didn't want to put down. Erika Kelly created another engaging story as this series gets better and better. Ms. Kelly developed characters that you would want to have as your own friends. Take Me Home Tonight can be read as a standalone in the Rock Star Romance series. Fans of Michelle A. Valentine and Katie Ashley will enjoy Take Me Home Tonight.
Book Info:

Publication: April 5th 2016 | Berkley | Rock Star Romance #3
A rocker gets a taste of unexpected passion in the latest red-hot Rock Star Romance from the award-winning author of I Want You to Want Me.
Calix Bourbon might seem like a free spirit, but that's all a front. In reality he's just trying to keep his fractured family together while working as a session musician. When Blue Fire hires him to replace their keyboardist, Calix is determined to make the most of the opportunity—but he can't help being distracted by the band's sexy personal chef.
Mimi's temporary gig is great, but she has her heart set on auditioning for a televised cooking show. There's just one problem: she only has a week to acquire the skills necessary to survive the competition. Luckily, the band's new keyboard player can teach her exactly what she needs, in the kitchen and in the bedroom…