The third installment in the Vampire Warrior King series, Taken by the Vampire King by Laura Kaye is a lusty, bitesize morsel that you will gobble up in one sitting. Though short on words, this novella nevertheless packs a big punch.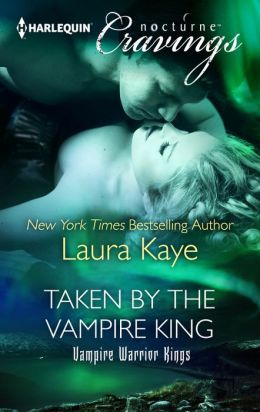 Henrick Magnusson, king of the northern vampires, is fading fast. Not even the blood of the Proffered human virgins has been able to revive him. What he needs is to find his blood match, his one and only true mate.
Kaira Sorenson is suffering from a rare form of leukemia. She is a photographer who has traveled to Norway to enter her pictures into a competition. When she is attacked by the soul eaters, Henrick swoops in and rescues her.
Kaira's blood calls to Henrick like no one else's has been able to. After sampling her blood, Henrick begins to show signs of improvement. Could Kaira possibly be the mate that Henrick is searching for? Will Henrick's blood be able to cure Kaira of her leukemia?
Henrick is a super sexy hero who I adored. I was rooting for Henrick to find his mate. My heart went out to Kaira and I found myself hoping for her to find a cure for her leukemia. Together Henrick and Kaira are a power couple whose love for one another shines through in the way that they are so fiercely protective over each other. I really found the setting in Norway to add an interesting element to the story. I learned a few new words and phrases in Norse along the way as well.
Laura Kaye has done it again. She has managed to steal my heart and bring me to tears. Her stories are full of tender romance that will pull on your emotions and won't let go. Taken by the Vampire King is a stand-out-novella that you won't want to miss!
Book Info

Publisher: Harlequin Nocturne Cravings (August 1, 2013)
NOTE: Taken by the Vampire King is novella length.
Henrik Magnusson is supposed to be immortal, but a mysterious ailment leaves the vampire king near death, and not even the blood of the Proffered, human virgins trained to serve the elite, can sustain him. Then he rescues a beautiful young woman from his enemies, and is filled with blood lust and desire he hasn't felt for centuries.
Photographer Kaira Sorenson's life takes a nightmare turn when she's attacked by blood-thirsty creatures–and saved by a vampire. She should be afraid of Henrik, but she can't deny her intense attraction to this regal, enigmatic being–nor the fact that her blood may be his only salvation. Now she must decide if she's willing to be his forever…