In Tamed (Tangled #3) by Emma Chase, Investment banker Matthew Fisher has always known that some day he wants a love like his parents have. One that is long-term, passionate, and where he would do anything to keep his girl happy. In the meantime, he's sown his wild oats in the best city in the world, NYC, and has had some crazy times along with his best friend Drew Evans. Matthew got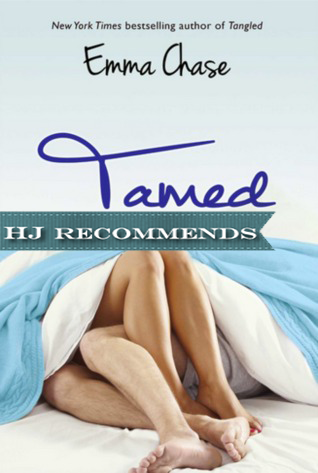 burned in the romance department in his college days, so he's decided to keep things low key until he meets just the right woman.
'…I'm a guy. Regular sex without attachment is the pot of gold at the end of the frigging rainbow. Something all of us dream about finding but don't really believe exists.'
When Matthew is introduced to gorgeous Delores "Dee Dee" Warren, he's pretty sure he's met his match. Not only is Dee a bombshell, but she's an extremely smart woman who can easily keep up her end of a conversation. After a mind shattering night together, Matthew is determined to prove to skittish Dee that he's trustworthy and that they have something very special together. But with their best friends having an apparent fling of their own which goes awry, and friends and family weighing in on their relationship, Matthew will have his work cut out for him.
'That first, scorching, perfect kiss. This was the moment that would determine the rest of my life. And nothing after it would ever be the same.'
Just when I thought I couldn't like this series more than I already did, Matthew and Dee's story came along. Tamed is another wild ride by Emma Chase with a ton of hilarious bumps in the road for our two lovebirds.
I very much enjoy the in-your-face narrative writing style Ms. Chase uses, especially for her male characters. This book is written from Matthew's POV while he's falling in love with Dee, which happens to take place at the same time as book one, Tangled, in which his best bud Drew Evans is completely wrecked over Kate Brooks. If you've read Tangled, you know Drew is blunt, arrogant, but totally lovable. Matthew, to me, was equally blunt, but not in an arrogant way. Aside from being a hunky sweetheart, Matthew was simply straight-up honest about being a guy. You gotta like that. He didn't lie, well, except maybe to himself. And he wasn't opposed to the possibility of a long-term relationship. If only Dee would have been on board with that from the start…
I loved that we got to know Dee better here. In previous books she was just Kate's crazy, super smart best friend who actually scared Drew a little bit. I thought she was the perfect counterpart to Matthew's laid back nature, and that they had incredible chemistry together. It turns out there's a reason she's got a smidgen of crazy running through her, but I thought her unique views (and fashion sense) made her a wonderfully complex, fun character. And we also get to see Kate's ex-fiance and Dee's cousin, Billy Warren, while he and Kate go through their break up. I didn't really like him much in Tangled, probably because I wanted Kate and Drew to get together, but he's not so bad of a guy when seen from Dee and Matthew's eyes.
I would suggest reading Tamed after you have read the previous two books in this series for it to make complete sense. I hope you enjoy the sexy, crazy goodness that is Dee and Matthew's relationship. So. Much. Fun. *sigh*
Book Info:

Published July 15th 2014 by Gallery Books | (Tangled #3)
Stop me if you've heard this one before: girl meets player, they fall in love, player changes his ways.
It's a good story. But it's not our story. Ours is a lot more colorful.
When I met Dee I knew right away that she was special. When she met me, she thought I was anything but special—I was exactly like every other guy who'd screwed her over and let her down. It took some time to convince her otherwise, but turns out I can make a convincing argument when sex is at stake.
You might know where this story's headed. But the best part isn't where we ended up.
It's how we got there.
TAMED goes back in time to the Tangled days. But this time around, it's not Drew dishing out the advice and opinions—it's his best friend Matthew, who of course is dealing with Dee Dee.