Taming the Texan by Jules Bennett: A rain shower in Texas is never just a spot, after all everything is bigger in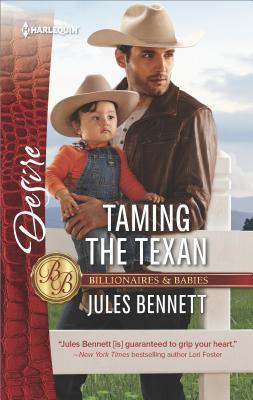 Texas.
Alexa Rodriguez knew everything was bigger in Texas, but why did heart ache have to be? Now single mother of a young son, she just didn't have time for any more. She was okay with being a young single mom until her son grew up a bit more and didn't need her as much, she really was. However when her friend forced her to a B and B for a weekend she knew she needed to go and recharge. She just knew she needed it.
Hayes Elliott was aware of bigger things. He wasn't sure why he was still here, but there had to be something bigger. Right now he just wanted some peace and quiet and time to heal. He needed to be home and recharge with his family, to build on his families legacies.
Thrown together thanks to manners and mother nature Alexa and Hayes are trapped together for the weekend. Two very hurt individuals with a lot going on in their lives… can they take a couple of days just for them? If they do what happens when those days are over?
Ms. Bennett has done it again. This is a truly amazing novel that touches on multiple types of PTSD. Without throwing it in your face she gives her readers a new way of looking at something that isn't highly talked about. She helps get the issues across while giving her readers characters that are so easy to fall in love with as they jump off the page and into your room. This is one of those novels you don't want to end and then when it does you want the next one like now. Go get this one now and then catch up with the rest of the Elliotts.

Book Info:

Publication: Published January 2nd 2018 | Harlequin Desire |
Stranded with a rich, rugged rancher…Single mom Alexa Rodriguez's first child-free vacation in years is supposed to be low-key. But then she meets brooding Texas rancher Hayes Elliott. Heir to an empire and suffering deep emotional pain, he tries to push her away–even as she craves his touch. And when a storm strands them together, their undeniable chemistry explodes. Now Alexa finds herself introducing Hayes to her precious son, imagining herself in Hayes's world and keeping secrets that could destroy everything…