Tangled: A Short Story by Kate Douglas: When Nate begins his new job at a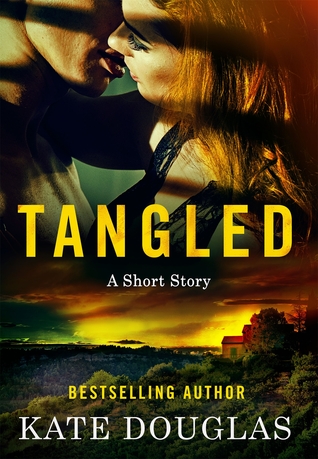 winery, the last thing he expects is the massive attraction to the mixologist, Cassie.
Former owner of the winery with her family, Cassie is still accepting the loss of the farm due to her dad's mistaken actions caused by his Alzheimer's. With too much on her plate, the last thing she wants is a man, even if she finds him near impossible to resist.
But as trouble begins occurring around the farm, they'll just have to realize they're better together before it's too late.
When she turned, they were mere inches apart. Her lips parted in surprise and he should have stepped back, given her room. But whatever had been simmering between them all evening slowly, steadily – as if he watched one of those stupid slow-motion explosions in a movie – exploded.
I love the idea of Cassie and Nate together. I think, from what little there was, they would be great together with hot chemistry. But there was too little romance, and what there was of it when 0 to 60 way to fast.
Too much of the short story is eaten away by the suspense aspect, which I really could have done without. Douglas either needed to make a much longer story where she could build either the romance or suspense, or she needed to focus only on the romance. As it was, both parts had way too little development, even if both showed promise.
For suspense fans especially, I would recommend Tangled: A Short Story. I really do quite like her writing and the promise I saw in the story. So I definitely think I'm going to give other Douglas novels a try.

Book Info:

Publication: May 3, 2016 | St. Martin's Paperbacks |
Nate shows up to work at Tangled Vineyards ready to do what he loves best—craft award-winning wines. But when something better comes in the form of Cassie, the winemaker and former owner, Nate is completely love-drunk. Getting involved with Tangled's mixologist is a bad way to start off a new job, but with Cassie as a temptation, Nate doesn't stand a chance.