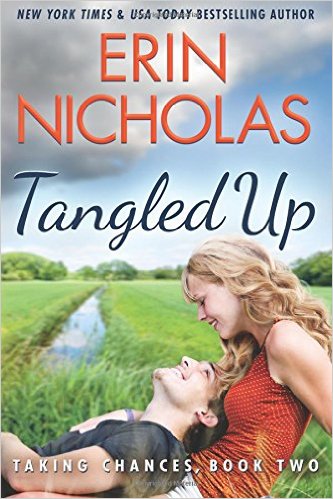 In Tangled Up (Taking Chances #2) by Erin Nicholas, Tornados are a common occurrence in Chance, Nebraska and when one of the worst hits the town, best friends Bree McDermott and Max Grady team up to help those in need. Both know repairing the houses and businesses around town comes first, but there's no way Bree isn't going to finally make her move, especially when she comes to realize just how much Max means to her.
"Damn, girl, you make me want to break all kinds of laws."
Bree McDermott – Officer McDermott – turned to him and raised her eyebrow. "You know I won't think twice about using my stun gun on you."
He did know that, as a matter of fact. "You promise to be extra rough when you handcuff me?" Max asked her with a big grin.
Bree laughed and launched herself into his arms. "You're just hoping to get frisked."
Ms. Nicholas is one of the authors I frequently re-read, especially when I know she's releasing a new book in one of her series. Because re-reading her books is a way to familiarize myself with the characters in that series, and as I read Twisted Up (Book 1 in her Taking Chances series) again, I couldn't wait to dive in and start reading this book featuring Bree and Max. Not only because this story encompasses the best friends to lovers trope, but because it's palpable how much Max cares for Bree.
As for the dialogue, I loved every minute of it. The teasing dialogue between Max and Bree illustrates how close they are and that neither of them wants to do anything to jeopardize their friendship. Yet, in saying that, if they don't do something about the intense chemistry pinging between them, than they could lose something that has the potential to be great and last forever. Can Bree convince Max that she's ready to give them a chance? It isn't easy, but if anyone is up to the challenge it's the heroine. She's smart and resourceful in the way she uses ice-cream analogies to prove to Max how right their relationship is. Really, who knew Bree could be so sweet? Furthermore, I liked the dynamics between the main characters and the secondary ones. Certainly, Bree and Max need the helpful advice their friends provide, if they're ever going to have a chance at happiness.
"Max?" Bree finally asked, her forehead wrinkling. "Are you okay?"
"You planned this? To have all of this ice cream here?"
She nodded. "I had to go to the store, but I wanted to show you what I'd realized. This is my celebration of you moving home. I get to have all of this, all of these kinds, whatever flavor I'm in the mood for, even multiple flavors at once, every day forever. Because it's all you."
Both the main characters were compelling, and it was understandable why Bree is an adrenaline junkie. She lives her life by appreciating the phrase — "Live every day like it's your last, because you never know what can happen" — because of how she's always felt like a replacement baby for her parents. However, her philosophy doesn't make it easy for Max to trust that she doesn't just want him because of the adrenaline rush the tornado or other incidents create for her. Luckily, she's persistent in trying to convince Max that she wants him for him.
While Max, he's hard-working, stubborn as a mule, and protective of Bree. She's been his best friend forever, and yet, his feelings for her have been more than that of a friend for years. There were moments where I wanted to slap the hero for being so stubborn when it came to believing in Bree's feelings for him. Yet, at the same time, I could understand why he kept hesitating to give them a chance. He had to be absolutely sure that she wanted to be with him forever, because once he had her he wasn't letting her go.
Overall, this was a fantastic second novel Ms. Nicholas has penned for her Taking Chances series where the sex scenes were hot and illustrated just how right these two are for each other. The way this story ended with Bree confessing what ice cream flavors match their intimate moments together and how they can have everything they both want brought a smile to my face. I would recommend Tangled Up by Erin Nicholas, especially if you love the best friends to lovers trope or small town romances.
Book Info:
Becca| 4.5 Stars | HJ Recommends | No |
Publication: January 17th, 2017 | Montlake Romance | Taking Chances #2
Storm chaser Max Grady can already feel it: there's a tornado coming to his hometown of Chance, Nebraska. Max is going after it, and the only person he wants by his side is police officer Bree McDermott, fellow adrenaline junkie, his best friend, and the woman Max has secretly been in love with for years. But when a close call with a tornado leaves them lip-locked, Max knows that the danger is only beginning.
Bree is always up for excitement. Her close and sexy encounter with Max is unlike anything she's felt before, and she wants more. As they work together to help clean up Chance, the air between them crackles with sexual tension. But Bree has a tendency to look ahead to the next thrill, and Max knows it. Now they're all tangled up as they chase the strongest force of nature on earth: love.