Tell Me by Abigail Strom: Quiet bookstore owner Jane has always been the exact opposite of her lively and vivacious outdoorswoman of a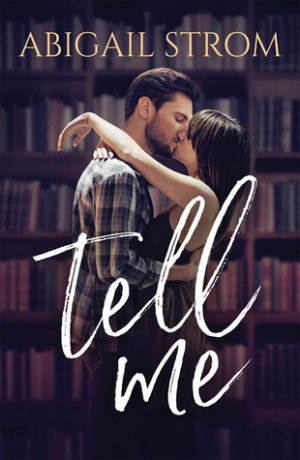 sister. She's always been overtaken by all that is Sam, but Sam's best friend and business partner, Caleb, has always taken notice of Jane. He's pushed her to do more and be more, and they've always been like surrogate siblings.
Until they begin to notice each other in ways they know they shouldn't. But when tragedy strikes, Jane and Caleb are pushed apart, and Caleb fears he's lost Jane forever.
But as they begin to heal, they find themselves healing together. And leaning on one another, they fall into a passion they never expected.
I zoomed through this story in nearly one sitting. It grabbed hold and did not let go. I loved both Caleb and Jane, and their sparks were hot and high. Thankfully, it didn't feel too much like a friends to lovers for me, nor was one pining after the other for years which I can never stand.
Instead, they both sort of fell into it. Accepted feelings they never fully acknowledge although they knew the attraction existed. The total opposites of who they are, as well, with one being the nerdy bookstore owner and the other a restless outdoorsman and traveler, became a great match-up.
My biggest issue is that I never saw them really be a couple. I get why, and so I'm not too annoyed with the story, but I wanted that connection and development that comes with actually being a couple. They know each other better than anyone, but at the end they took steps which just did not make sense to me.
Overall, I definitely recommend Tell Me for anyone who loves a passionate and interesting romance; or friends to lovers, opposites attract, etc. Honestly, for any romance fan.

Book Info:

Publication: October 1, 2017 | Montlake Romance |
Shy bookstore owner Jane Finch grew up hiding in the margins of her own life while her vibrant, adventure-loving sister, Samantha, dominated every plotline. She's made peace with it, unlike Sam's business partner, Caleb, who's always nudging Jane to go after what she really wants. Why should she care what blunt, brash Caleb thinks? They've never had much in common, except for Sam.
After tragedy strikes, they don't even have that.
Caleb can't quite remember when Sam's little sister stopped being like a surrogate sibling to him and became just…Jane. She's the most intriguing woman he's ever met, and so much sexier and stronger than she thinks. On the emotional journey to honor Sam's memory, the spark they've tried to deny becomes an inferno. This journey was meant to be an ending, but will they discover an unexpected new beginning?