Tell Me Something Good by Jamie Wesley is an adult contemporary romance. I have never read anything by this author, but you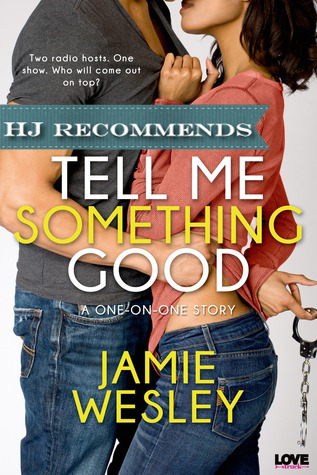 can be sure that I will be looking for more books because this one was really really good.
This is a story of two radio show hosts who would never call themselves friends. They are different like night and day….totally opposites.
Noelle Butler is a psychologist, who hosts a radio talk show giving advice to those who have problems with love and relationships. Tate Grayson hosts a show all about sports. Noelle believes in love, and she tries to bring couples together. Noelle is all business, her appearance, her clothing and her hair. She is the ultimate professional. Tate is the opposite, totally laid back, casually dressed and believes with all his heart that athletes' should never ever get married. Just go out and have fun. Needless to say, these two do not get along.
When the station manager decides to put them together for two hours a day, in between their own shows. They both dread working together, but they have no choice but to try to put aside their differences and work together. They fight, they bicker, and somewhere in between, they fall in love. There was a lot of humor in the story, when Tate tries to teach Noelle about sports. Noelle tries to be patient and show Tate that relationships and love is worth fighting for. It was so great to watch their defenses slowly begin to crumble. They began to learn about each other, their backgrounds that lead to their choices, and the start of a friendship, which would eventually lead to love. Their chemistry together was apparent as they worked together, and it turned out to be a very sexy sensual romance.
This was truly a surprise story that I was very happy to read. I would recommend this as a quick weekend read for anyone that loves a good opposites attract book. I give it 5 sizzling stars.
Book Info:

Published August 11th 2014 by Entangled: Lovestruck
A satisfying category romance from Entangled's brand new Lovestruck imprint…
Two radio show hosts. One show. Who will come out on top?
In a moment of restlessness, Tate Grayson sold his multimillion-dollar company and spun his love of sports into a radio talk show. Life, and love, is too short to take seriously—a fact he enjoys rubbing in uptight radio host Noelle Butler's face.
After the death of her parents, a tragedy she blamed on herself, Noelle vowed to live a controlled, focused life. Now a psychologist, she channels her need for connection into her radio show. But when the arrogant sportscaster next door tells listeners men shouldn't get married, she's all too happy to yank the silver spoon out of his overprivileged mouth.
Their heated on-air arguments are a hit, but when the station director forces them to do a joint show for two weeks, Tate and Noelle object. They can't stand each other, despite the attraction sizzling beneath every interaction. But if they can't pull the struggling radio station back from the brink, they'll lose their jobs. Or worse, their hearts.