In Temptation in Shadows by Gena Showalter, Sean Walker's attraction to waitress Gabby Huit is bad news. His job is to protect her as a bodyguard at the local bar where she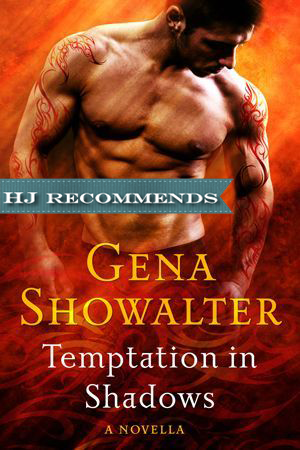 works, not to fall for her, which could only lead to heartbreak on both their parts. They also both have secrets they're hiding from those around them which could create serious issues.
His gaze met hers, hard, determined. "I will win your trust, Gabby. Whatever it takes."
A lump formed in her throat, and she swallowed. "Good luck with that."
Sean has a supernatural ability in which he can control the shadows and he soon learns that Gabby, too, has her own special ability. Unfortunately this puts them both in danger from those looking to tap into those gifts for their own benefit. Sean vows to keep them both safe while he tries to win Gabby's trust and her heart in the process.
"…You should know that I won't give up. I'll romance the hell out of you until you finally cave."
Temptation in Shadows is a hot and steamy novella from uber talented Gena Showalter. I really enjoyed the blend of paranormal romance and suspense in this story as it worked so incredibly well together.
One of the things I look forward to in Ms. Showalter's books is the dialogue. It's usually snappy, witty, and smart. I'm happy to say that was definitely the case with Gabby and Sean. They were both a bit sarcastic and guarded, but as they started warming up to one another their conversations grew more passionate and flirty. And the love scenes? Whew! Super naughty and sexy thanks to Sean being such an alpha male. But Gabby wasn't afraid to speak her mind, both in and out of the bedroom which made for some fun scenes. 😉
I also liked the whole premise behind the story, with Sean being able to control the shadows and darkness. That's a supernatural ability I've never really read about before and it was a pretty cool idea the more I thought about it. I won't give away any spoilers here, but suffice it to say that Gabby has her own abilities which are equally as impressive and which also allowed her to connect with Sean in a way others wouldn't have been able to. And although this was a novella length story, it has a HEA that finished in a nice way so there were no cliffhangers.
If you're looking for a short story that is very well written, entertaining, and suspenseful, I recommend Temptation in Shadows. This would be a great addition to your bookshelf if you search out Gena Showalter titles like I do!
Book Info:

Published June 17th 2014 by St. Martin's Paperbacks
Originally released as part of THE BODYGUARD anthology, fall under the spell of Gena Showalter's paranormal romantic suspense novella "Temptation in Shadows." Every day he puts his life on the line, what will happen when it's his heart in jeopardy?
Tall, lean, muscular—and definitely rough around the edges—Sean Walker is not your typical nightclub bodyguard. He's a controller of shadows, able to wield darkness at will. But when a mysterious woman at the club turns out to have powers greater than his own, he has no choice but seduction…
Now exclusive as a standalone e-title, read the sexy story that captivate readers from New York Times bestselling author Gena Showalter.