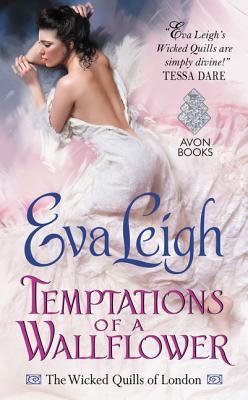 In Temptations of a Wallflower (The Wicked Quills of London #3) by Eva Leigh, Lady Sarah Frampton is known by two monikers, although one is a secret name. As the Watching Wallflower, she is the young lady always on the sidelines at any Society event. But as The Lady of Dubious Quality, her pen name, she is the author of exceedingly popular erotic novels. Sarah knows that as long as her true identity remains hidden, her family name is safe. And after meeting and falling for vicar Jeremy Cleland, she believes a marriage to the handsome man could protect her in her writing endeavor as well as be a true love match.
'She wanted to confide in him, let him know that she was the Lady of Dubious Quality. Much as she enjoyed holding that mystery to herself, she wanted to share it with someone. Her hidden triumph.'
Vicar was not the occupation Jeremy would have chosen for himself but his father, the earl, would not give him any choice in the matter. Just like being told he has to find out who The Lady of Dubious Quality is and stop them from publishing again. When Jeremy falls for Lady Sarah and realizes how deep his feelings run for her, he's sure they will never amount to anything as she is a duke's daughter and he is just a vicar. But Jeremy gets his wish and they become blissfully wedded. Until he learns Sarah's true identity. Then he must figure out a way to keep their families from social ruin and also keep his marriage intact.
"My wife is not shy," he said huskily.
"Not with my husband, I'm not," she answered, dragging her gaze back up to his face. "I've spent too long in the shadows. Now…with us…I want everything in the light."
His heart–and other parts of his anatomy–leapt.
Eva Leigh's Temptations of a Wallflower continued the theme of strong heroines who are writers in some form or fashion, struggling to make it in a man's world. This time we were entertained by the unlikely pairing of a secret erotic writer and a handsome vicar.
'Warmth filled him. She might have been a wallflower in London, but here in this humble village, she was a fine rose. And he was the lucky man who witnessed her blossoming.'
The third book in The Wicked Quills of London series was great fun and oh-so very sensual as the relationship between Sarah and Jeremy progressed. I liked both main characters right from the start, as I have with all of Eva Leigh's books so far. And I thought the premise here was one that I haven't encountered yet in Historical Romance.
Seeing a spinster-like wallflower write popular erotica was actually kind of satisfying. It almost felt like Sarah was thumbing her nose at Society, doing something that none of them would ever in a million years dream she would do. Most of all, I loved that Sarah was intelligent, strong, and curious in regards to sex. She wasn't ashamed of the fact that she wrote such novels. She just didn't want her family to be marred by it socially, which was commendable, so she hid her occupation.
I think the fact that Sarah and Jeremy were both filled with lust-fueled thoughts, especially about each other, drew them closer together and meant that they weren't embarrassed by their desire once they were married. I loved that there was a sense of empowerment they each felt from their romantic endeavors, in being able to please one another. Those scenes were written beautifully and were done tactfully even though they were at times a bit, ahem, descriptive.
The other way I think Jeremy and Sarah connected was over the obligations they felt from their parents to behave in a certain manner or with how they were required to spend their days. Jeremy didn't want to become a vicar even though he did a great job as one. And Sarah didn't want to be cast off to the highest bidder with no say in the matter. They found a freedom to be who they truly were underneath Society's rules when they were together. And that was a wonderful thing to watch.
Female empowerment. Family obligations. Passionate romance. All of this led the way to an exciting Historical Romance that was as provocative as any modern Erotic novel I've encountered.
Book Info:

 Published April 26th 2016 | by Avon | The Wicked Quills of London #3
Eva Leigh's deliciously sexy Wicked Quills of London series continues as a Lady's secret career writing erotic fiction is jeopardized by real-life romance . . .
In society circles she's known as the Watching Wallflower—shy, quiet, and certainly never scandalous. Yet beneath Lady Sarah Frampton's demure façade hides the mind of The Lady of Dubious Quality, author of the most titillating erotic fiction the ton has ever seen. Sarah knows discovery would lead to her ruin, but marriage—to a vicar, no less—could help protect her from slander. An especially tempting option when the clergyman in question is the handsome, intriguing Jeremy Cleland.
Tasked with unmasking London's most scandalous author by his powerful family, Jeremy has no idea that his beautiful, innocent bride is the very woman he seeks to destroy. His mission must remain a secret, even from the new wife who stirs his deepest longings. Yet when the truth comes to light, Sarah and Jeremy's newfound love will be tested. Will Sarah's secret identity tear them apart or will the temptations of his wallflower wife prove too wicked to resist?