Tempted by the Billionaire Tycoon by Jennifer St. George: Poppy Bradford was young, yes, but she was doing one heck of a job as the GM for the exclusive spa resort. Or she was until the "incidents" started and then everything went to heck. The problem was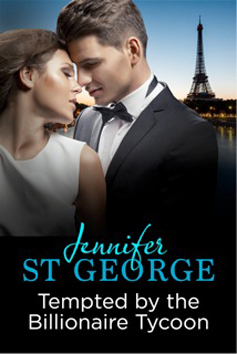 she couldn't let it; she needed this job. She needed stability and the ability to protect the only person she cared about.
Nic Capitini was ruthless, not so much in the out to get you kind of a way but in the I need to prove something to the world, or someone in particular, kind of a way. He spent so much time and energy trying to get everything just so. He knew he needed to make it big to help his family, the family that denied his existence. So when one of his spa's starts to make news and not in a good way he knows he needs to fix this problem and fast.
Nic and Poppy have a kind of instant chemistry but there are barriers between them, first as guest and employee then as boss and employee. Add to that the drama of having to prove herself and then having attacks made at her Poppy really isn't sure what to do. As for Nic he is trying to balance his lust, his need for excellence and his family without really being sure which was is up. Throw in a man who doesn't know the word "no", and one who is causing harm, will love see them through everything or will there just be too much?
This was an interesting read by Ms. St. George. There is a lot going on in not many pages, which means that some of the descriptions aren't very flushed out. While it has a string of romance running through it's also got intrigue, mystery and mayhem themes as well. Both the hero and heroine have strong family issues and they seem to do a lot of internal battles around those. While this is an overall nice book, it tries to squeeze a lot in and while there are some truly memorable scenes it does ask you to use your imagination a bit.
Book Info: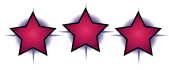 Publication: October 21st 2014 by Penguin Books Australia I Destiny Romance
The latest sexy international romance from the bestselling author of The Billionaire's Pursuit of Love.
Three strikes and you're out…
A series of strange accidents are occurring at Sirona, a luxury spa resort in the picturesque English countryside. Billionaire owner Nic Capitini wants the person responsible sacked. But the law requires he give three official warnings. Nic checks in undercover to gather the evidence he needs, and when he arrives to find his general manager enjoying the spa's facilities, he doesn't think it will prove very challenging.
Despite first impressions, it isn't long before Nic realises that not only is Poppy Bradford beautiful, she's a brilliant manager who runs the resort superbly. And the chemistry between them is undeniable. When Poppy herself is threatened, it seems clear the incidents are part of a systematic campaign of sabotage. Even though he believes she's innocent, Nic knows Poppy is hiding something. But will learning her secret mean losing her forever?
Tempted by the Billionaire Tycoon is part of the Billionaire series by Jennifer St George, but can certainly be enjoyed as a stand-alone book.