Tempted by the Wrong Twin by Rachel Bailey: Baggage gets heavy, especially when you are carrying the load alone. However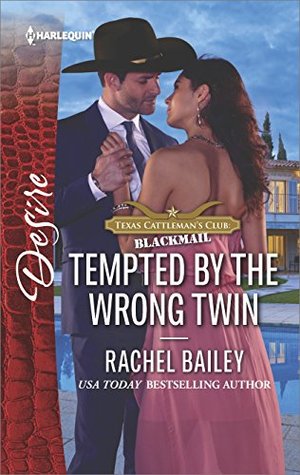 sometimes when someone reaches out to help you only end up with twice the load.
Harper Lake knew she had the baggage from her past. She thought she had worked through most of it and yet at the worst times it tends to rear it's ugly head. Now she is contending with that and what she thought was a one-night stand with her boss. What on earth is she going to do now?
Nick Tate knew better, lying by omission and deception? Normally it wasn't his thing, but he was going to protect and well if things happened they happened. However life isn't that easy so when his baggage, past and present, greet him at the front door he knows he has to make a call.
The future can be blurry at times and sometimes the people who can help the most end up adding more confusion. In the long run though everything will become clear and these two will each get new visions of a clear future.
Ms. Bailey has delighted her readers with such an amazing read. It is part of the Maverick saga, but not really. This is well suited for a standalone read. She only touches with surface with some hard things like addiction and PTSD as we as grief and unplanned pregnancy but she does so well. They aren't brushed aside or not given consideration. This is a novel that has a happy ending while touching on some fairly serious things. Reading this is like eating veggie fries, all the yummy fried goodness with the healthy baked in.

Book Info:

Publication: August 1st 2017 | Harlequin Desire | Texas Cattleman's Club: Blackmail #8
Harper Lake can't believe she bedded her boss after a wild night at a masked ball. But then she finds out it was actually his identical twin, Nick Tate! And she's carrying his babies!
With his own set of twins on the way, Nick knows that proposing to Harper is the only next step. Yet the former navy SEAL is battling some deeply buried demons. Welcoming Harper back into his bed is the easy part. Finding true love and wedded bliss will be the ultimate test…and temptation.