In Tempted in the Tropics by Tracy March, Paige Ellerbee needs to keep her struggling bakery, Sweet Bee's in the black. She was fine while the publicity from her friends Liza Sutherland and Cole Collins used her bakery for a pie bake off to see who was more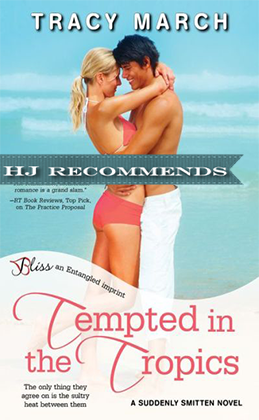 creative. But now time has passed and she needs every client she has. Unfortunately, when Dr. Hartley goes on a once in a lifetime vacation, he has his nephew fill in for him for the month. And the new doctor does not want to follow the ways of his uncle.
Lane Anderson has had enough trouble on his hands. And if he continues with his uncle's way to give certain information to Paige to make her special magic baking for his patients it can get him into deeper trouble since the original forms to release that information are not in his name. Which means that he will not give her that information and she can loose customers.
As Paige and Lane do everything to keep away from each other, he cannot help feel a little guilty for affecting her business. Good thing that her friend's Liz is getting married which will take her mind away from that since she is the maid of honor. Unfortunately for both of them, Liz and her mother have changed some plans. One the wedding has been moved up and they have to fly to the resort the following week, and two Liz has invited Lane to the wedding and wants him to play classical guitar in the ceremony.
What begins as a war between Paige and Lane, becomes a truce as soon as they land on the island. But the attraction and chemistry that they both denied while back home in Maple Creek will make itself undeniable while in the tropics. A little vacation fling may sound like the perfect solution, but things are not always that easy as they will both find out soon enough.
Paige and Lane may seem like complete opposites in the way they live their lives and their social status, but true love can make that difference unworthy, and just show how much opposites do attract. The scenes in the island will make you laugh and make you hot, and the ending will make you sad (maybe even cry a little) but so very happy in the end, so be warned.
Overall the Tempted in the Tropics by Tracy March is a sweet and heartwarming read that you don't want to miss. And make sure that you have read The Practice Proposal, the first book in the Suddenly Smitten series so you get to meet and enjoy how Liz and Cole fall in love and what part Paige and her bakery play in it (and make you laugh with a certain voodoo cake, shh I didn't say anything!) 😉
Book Info:

September 9th 2013 by Entangled: Bliss
The only thing they agree on is the sultry heat between them
Nothing's more important to Paige Ellerbee than her struggling bakery, Sweet Bee's. When Lane Anderson, the temporary new doctor hot enough to rival McDreamy, moves in next door, though, she's sure things are looking up. Until he threatens her business in their first conversation.
Lane just wants to practice medicine responsibly—not argue with the flighty bakery owner next door. But when he finds himself traveling down to the Caribbean to play guitar for Paige's best friend's wedding, suddenly the sight of the blonde in a bikini eclipses the fact they can't agree on anything. And as their vacation romance grows, his reservations about starting something after getting burned by love are washed away like sand on the beach.
But once Paige and Lane land back home, will these polar opposites be able to forgive their feud and find lasting love?