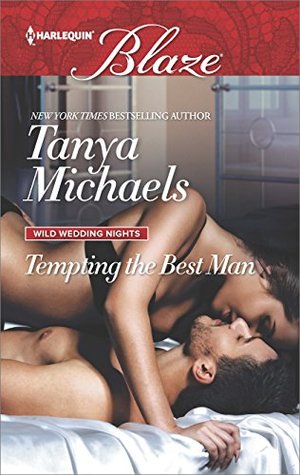 Tempting the Best Man by Tanya Michaels explores the growing attraction of two people who are complete opposites from each other.
Mia Hayes and Daniel Keegan went to college together. She was the girl with the chip on her shoulder and he was the teacher's pet who always followed the rules. The only thing they had in common was their attraction to each other. Years later they bump into each other at a bachelor party and realize the attraction is still there and even stronger than before.
Mia is an event coordinator who is organizing the wedding for Daniel's best friend. After Daniel puts his foot in his mouth, he decides to step out of his comfort zone and adjust Mia's opinion of him. As they spend more time with each other, their perceptions of each other change.
Daniel is a professor who is a very predictable type of guy. His family is uptight and any sense of adventure or wild side has been repressed for a very long time. With Mia, he's allowed to be himself and prove that he's not as boring as he seems.
"Sometimes the best things turn out to be quite different than what you were expecting."
Mia and Daniel's relationship might have started off as rough, but their chemistry toward each other is beyond hot. These two really know how to burn up the sheets. When they are alone together, the world doesn't exist and nothing else matters but each other. Unfortunately, the real world has a way of getting in the way. What happens when their feelings for each other develop beyond the physical? Will Mia and Daniel pursue a long-term relationship or will their differences be too much to handle?
I really enjoyed Mia's character. She's intelligent, strong, and makes no excuses for her outspokenness. I liked Daniel as well, but Mia stole the book for me. The heat in the book is done very well. Daniel and Mia's interactions were very steamy and entertaining. Not only were they hot together, their back and forth banter was great! I also enjoyed the growth Daniel showed towards the end of the book and how he finally stood up to his overbearing mother. Overall, a great read!
Book Info:

 January 1st 2017 | Harlequin Blaze | Wild Wedding Nights
A lesson in chemistry…
Back in college, Mia Hayes had a secret crush on fellow student Daniel Keegan, who was an obnoxious stuffed shirt. But she fantasized about turning Mr. Uptight into Mr. Hot Sex. Now Mia owns a successful event-planning business, and at a bachelor party she's organized, she runs into Mr. Uptight himself. And she's determined to show overly serious college professor Daniel how to loosen up a little…
Imagine Mia's surprise when she learns that Daniel has a deliciously wicked side—one that makes her knees weak with lust. It turns out Daniel is a whole lot more than she ever dreamed. But tempting the professor might have been the riskiest thing Mia has ever done. Because in their case, opposites don't just attract…they combust.