Texas Fandango (Texas Montgomery Mavericks #3) by Cynthia D'Alba is an extremely hot, well written novella. I read it very quickly because it was so good I could not put it down.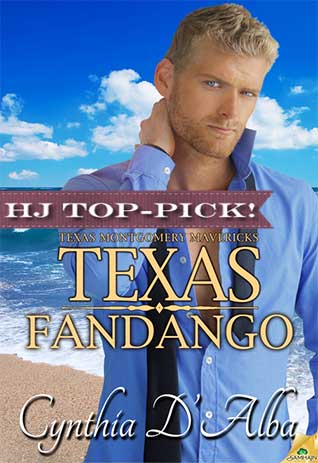 KC Montgomery knew she found her true love when she was only eleven years old. Drake Gentry was a young man, six years her senior and best friends with her cousin Travis. As KC grew up and blossomed into womanhood, Drake noticed her, but Travis put the kibosh on the attraction. Although they continued to have pseudo feelings for each other, adulthood didn't change things because the timing was never in their favor to evolve their friendship into something more.
Now KC is a a successful attorney and Drake is a college professor waiting on his bar exam results in order to begin a new career. They are two totally stressed out people that need a vacation very badly. Finding out that Drake has an extra, unused ticket to the Caribbean, KC pounces on the opportunity to spend time with him on a tropical island. However, in order to ensure that she does not get hurt or truly emotionally involved, she puts conditions on their time together. Their vacation is limited to the two weeks that they are actually on the island and must include sand, surf, sun, spa and hot, unemotional sex. What man could turn that down? Certainly not Drake.
Finally the time is right for KC and Drake. Two weeks in the sun at a luxurious resort only brings them closer together. Hot sex is an understatement when they are alone with each other. Their chemistry is crazy and love slowly overtakes the lust. Luckily, after overcoming some obstacles, they get their happily ever after when they return to the real world in Whispering Springs, Texas.
Wow, nothing like a hot read in the middle of the dreary winter season to boost up your spirits. KC and Drake are likeable, charming characters that kept me captivated throughout the story. Their banter is amusing in addition to being honest and flirty. Ms. D'Alba does an excellent job of describing the tropical scenery, which only adds loveliness to an already engaging plot. I loved this book! If you are looking for a quick, sensual romance, this book is for you.
Book Info:

Publication: February 4th 2014 by Samhain Publishing | Texas Montgomery Mavericks #3
Two weeks on a beach can deepen more than just their tans.
Texas Montgomery Mavericks, Book 3
KC Montgomery was eleven when she met the love of her life. Of course, seventeen-year-old Drake Gentry didn't know she existed, but that didn't stop her girlish fantasies from growing and changing over the years.
Now, after enjoying a front-row seat to his breakup with his latest girlfriend, she's been handed an all-grown-up fantasy come true—two weeks at the Sand Castle Resort. With him.
Drake most definitely noticed KC a long time ago, but the timing's never been right. Now that he's facing a lonely vacation that was supposed to be for two, it seems only natural to accept KC's offer to fill in. And as far as her terms go… No strings. No expectations. No holds barred. Drake is no fool—he's all over it.
But once they're back in Texas there are invisible strings still hanging between them. Strings labeled attraction, affection…even love. And the more they try to untangle the knots, the tighter they're bound together.
Warning: Beware of sunburns, whirlpool sex and sand in delicate places.