In Texas on my Mind (Spring Hill #1) by Delores Fossen, Riley McCord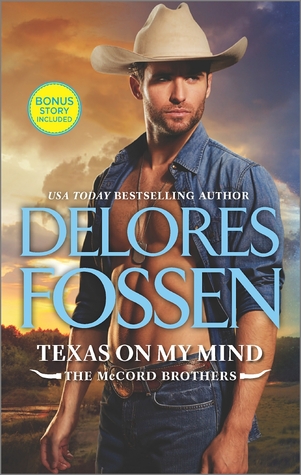 and Claire Davidson were childhood friends. But when Riley left town to join the air-force, Claire knew she couldn't put her life on hold waiting for him to return, even though she'd wanted him for way too long. Now with an injury forcing Riley to return home to recuperate, Claire is determined to help him get better along with half the women in town. However, getting close with Riley again means risking her heart. Because she knows once he's healed, he'll leave.
There were two women in Captain Riley McCord's bed. Women wearing cutoff shorts, skinny tops and flip-flops. Riley blinked a couple of times to make sure they weren't by-products of his pain meds and bone-deep exhaustion. Nope. They were real enough because he could hear them breathing.
I tend to judge the books I read by their opening lines/paragraphs, and Ms. Fossen has written one that was attention-grabbing, and instantly drew me into this story's fast-paced plot. As I wanted to read how Riley would handle the situation he's come home to. Because isn't finding two women in a bed supposed to be a dream come true for many heterosexual men? Yet, the choice Riley made along with the reason why he made it, immediately had me liking this story from the hero's point-of-view.
"Fawned over? What the heck does that even mean? Is that a new compromise word?"
"Yes, it means you dream of fudging and bubblegumming Riley."
Claire huffed. "Does any woman actually dream of bubblegumming a man? I don't. It's more of something that just sort of evolves during foreplay."
As for the dialogue, the moment that Riley and Claire come face-to-face again was priceless. Certainly, Riley learns his lesson. Then there's some really good teasing dialogue between Claire and Riley, as well as the heroine and her best friend that had me laughing or smiling. Especially when it came to the code words they'd made up to replace swear words, so Claire's son wouldn't cuss. However, it also gets very intense, as Riley deals with his injury and how the moment it happened haunts him, the marriage proposal Claire receives from Riley's best friend, in addition to the secret Claire is keeping about her son. Why does he look so much like Riley when they've never been intimate?
Both the main and secondary characters were fantastic. Riley's brothers are protective of Claire, and don't want her to get hurt. Knowing Riley will leave once he's healed and passes his physical, allowing him to return to the career he loves and doesn't want to lose.
Then there's Claire. She really surprised me. She's strong, brave, a great mother. She suffers quite an emotional blow from reading her mother's journal, which made me want to cry for her. Yet, she deals with it the best she can with Riley by her side. He helps the heroine see that people loved and still love her despite what horrible things her mother wrote, especially when she discovers the letter Riley wrote when he was younger.
While Riley, I was absolutely charmed by him. He's strong, brave, and tenacious. He desperately wants to get better and return to duty, but – at times – it seems impossible. Even though, what he did to obtain his injury shows how much of a hero he really is and that the air-force would be lucky to have him back. Yet, the way he's haunted by nightmares and the pain from his injury made me feel sorry for him. Luckily, Claire helps him just as much as he helps her, especially in the moment where Riley can't handle being in a crowd and begins to panic.
Now she laughed. "That was my attempt at a distraction. And I didn't actually kiss you. I just wanted to avoid the jerks in that smoking crowd."
"Does the flyboy need some help locating his target?" Riley repeated. "And Jack Banchini offered to lend me a condom if he could join us."
Claire hadn't heard that, but she'd deal with Jack the next time she saw him. Maybe she'd dump a beer on Jake's head, too. For very different reasons.
Overall, I loved this book where the sex scenes were hot, nicely-detailed and illustrated this couple's intense chemistry that definitely deserved to be explored. As they had feelings for each other in the past, but never acted upon them because Claire knew the hero couldn't offer her the two things she craved the most – safety and stability.
The story ended well with Claire's confession about why her son looks like the hero, Riley's decision about his future once he discovers the heroine's answer to the letter he wrote years ago, and the surprise Riley brings Claire's son (something that helps him with toilet training. Let's just say – boys + toilet training = amusement). I would recommend Texas on my Mind by Delores Fossen, if you enjoy the friends to lovers trope.
Book Info:

Publication: February 23rd, 2016 | HQN Books | Spring Hill #1
The McCord Brothers are the most eligible bachelors in Spring Hill, Texas. But these cowboys are about to get wrangled by the love of some very special women—the kind who can melt hearts and lay it all on the line.
Air force Captain Riley McCord has come home on medical leave to find one heck of a welcome reception. Every unattached woman in Spring Hill, Texas, wants to nurse him back to health. That includes his childhood friend Claire Davidson—the only person who understands how damaged he really feels. In high school, she chose his best friend over him. According to Riley's rules, that should make her off-limits forever. But when Claire suggests a no-strings fling, he can't refuse.
Claire always wanted Riley—but she also craved the safety and stability he couldn't offer. So she chose another path, only to end up crazier about him than ever. She's even convinced herself that this time she won't be devastated when he leaves. Yet once Riley realizes the depth of Claire's feelings—and his own—he'll have to make the ultimate choice: return to the job he loves or stay home for the woman who's always lived in his heart.