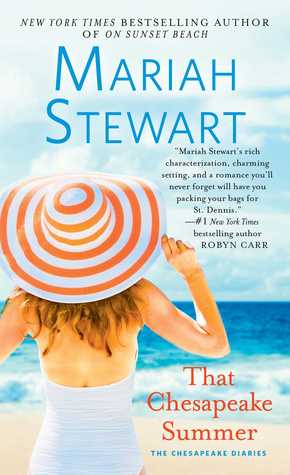 In That Chesapeake Summer (Chesapeake Diaries #9) by Mariah Stewart, Author Jamie Valentine was taught by her parents the value of being honest in everything she did. So to say that she was shocked when she found out that her parents kept important information from her all of her life was an understatement. Fleeing to St. Dennis, located on the Chesapeake in Maryland, Jamie searches for answers to the secret her parents kept, as well as deciding if she can continue a career writing self-help books about honesty. In the process, however, she finds a chance at love and a way to reconcile her past.
"Ironic, isn't it, that I've built my career based on truth — truth at any cost — and it turns out that my whole life has been a lie."
Widower Daniel Sinclair noticed Jamie the moment she walked into the Inn, but they didn't exactly hit it off at first. Busy running the Inn he took over from his dad at a young age and taking care of his two children, he's never really taken time for a social life. It figures the one woman he's attracted to would be hiding something from him, mainly her real reason for being in St. Dennis. But as his mother Grace takes Jamie under her wing, using her sixth sense to guide her, Dan is pretty sure he won't be able to let Jamie go when the time comes.
'He'd had a lot of time to think over the past few days. He and Jamie were on the road to something big, something good and important. He knew it, and he was certain she knew it, too.'
There were a lot of touching moments in That Chesapeake Summer, while Jamie and Dan's lives crossed paths. They say everything happens for a reason, and that couldn't have been more accurate with this lovely pairing.
I have to admit I'm new to the Chesapeake Diaries series, and this is book nine, so I thought I would be fighting a losing battle figuring everything out. I'm happy to say that such was not the case, and I found this easy to read as a standalone. I'm definitely a sucker for a small town story, which this definitely is, but the fact that it's also set on the beautiful Chesapeake shores? That completely sold me on it.
Author Mariah Stewart really captured that vibe of a small fishing town that catered to tourists, yet still had a thriving local community. The sense of history and family that is so prevalent in such towns was so important to all of the main characters: Jamie, Dan, and Grace. It shaped Dan and Grace's everyday lives running the Inn, while it became a stepping stone to figuring out the secret Jamie's parents had kept from her all her life.
This story was told from alternating POVs, a set up which worked very well for this particular plot. I immediately connected with Jamie and her sorrow over her mother's passing and then coping with a shocking revelation. Dan…I wasn't so keen on at first. He came across as kind of rude and egocentric until I learned more about his past, being forced to shoulder the responsibility of the Inn so young and then losing his wife. I thought Jamie and Dan did make a good couple and that they were very sweet together. Grace and her all-knowing diary entries kept me guessing who she was talking about and what would happen next. Loved those parts of the story.
I think romance fans will enjoy their time on the Chesapeake Bay when they read this entertaining and heartfelt novel.
Book Info:

 June 23rd 2015 | by Pocket Books | The Chesapeake Diaries #9
Jamie Valentine is the wildly successful author of self-help books advocating transparency in every relationship. But when her widowed mother passes away unexpectedly, Jamie discovers her own life has been based on a lie. Angry and deeply betrayed, she sets out to find the truth—which may be in a small town on the Chesapeake Bay. Cutting her most recent book tour short, Jamie books a room at the Inn at Sinclair's Point, just outside St. Dennis.
The death of Daniel Sinclair's father forced him to take over the family inn, and his wife's death left him a single parent of two children, so there's little room for anything else in his life. His lovely new guest is intriguing, though, and he's curious about the secret she's clearly hiding. But in the end, Jamie and Dan could discover the greatest truth of all: that the search for one thing just might lead to the find of a lifetime—if you keep your heart open.