In That Killer Smile by Juliet Lyons, vampire Catherine Adair runs a vampire dating service.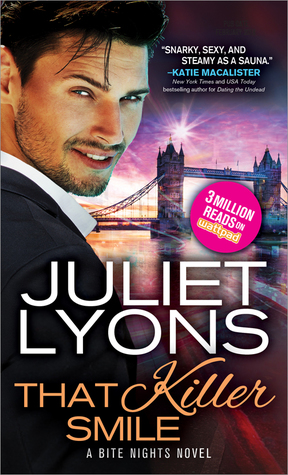 Ronin, an ancient and the overlord of all the London vampires, starts a speed dating service for vampires in order to get her attention. Catherine dislikes Ronin after an encounter they had years earlier, but he's determined to win her over.
I enjoyed the sarcastic back and forth banter between the couple.
"Why, thank you, Oprah," I say, my voice dripping with sarcasm. "I've been waiting almost two hundred years to hear a speech like that. If my hands weren't being held down, I'd give you a round of applause."
His jaw clenches. "You really are an uptight bitch, aren't you?"
"I was extraordinary a moment ago," I say, eyes wide. "Though forgive me if the words mean so little coming from a self-absorbed rake like yourself."
The reason for Catherine's anger towards Ronin is understandable, and it stems from something other than his new dating service. Catherine has been harboring guilt over something she did early in her life, and she feels she doesn't deserve to have eternal life. Ronin makes it his mission to convince her she deserves to live and to show her she has a lot to live for.
While this is the third book in the series, I feel it works as a standalone. I haven't read the previous books but I didn't feel like I was missing anything.
I would recommend That Killer Smile to those readers who enjoy paranormal romances featuring vampires.

Book Info:

Publication: February 1, 2018 | Sourcebooks Casablanca | Bite Nights #3
Vampire Catherine Adair gave up trying to find her perfect match ages ago. But that didn't stop her from founding London's super successful vampire dating site. When a smoldering vampire overlord from her past launches an interspecies speed-dating service, Catherine vows to crush the competition….
Ronin's new venture is purely about getting Catherine's attention. He hasn't stopped thinking about her ever since the night she gave him the cold shoulder. Nobody gets away from Ronin McDermott that easily…